Jalapeno Dip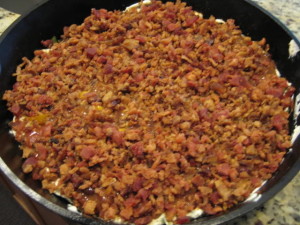 Layered Jalapeno Dip
2014-02-20 12:52:56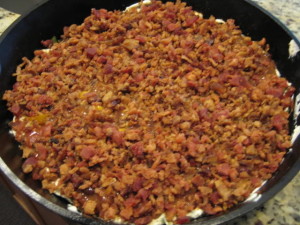 Ingredients
1 lb bacon (cooked & crumbled)
10-12 jalapenos (cleaned, cored & diced) (I usually leave a few seeds for heat)
2 - 8oz pkgs cream cheese softened
Favorite rub (optional)
12 oz jar sweet/spicy salsa (we like Paul Newman's Pineapple Medium heat)
Instructions
Get BGE indirect or raised direct set up to 325. I like to use a Cast Iron skillet so I can cook and serve in the same pan.
In a cast iron skillet, cook the bacon until crispy. Drain, crumble & set aside. While bacon is cooking, clean, core & chop jalapenos.
After bacon is cooked use some of the bacon grease to sauté the chopped jalapenos. Usually this takes about 10 minutes on medium heat.
When cooked jalapenos have cooled down spread the softened cream cheese over the top of the jalapenos. Try to spread the cream cheese so the jalapenos stay on the bottom of the pan. Remember this is a dip. Sprinkle your favorite rub on the cream cheese.
Spread the salsa over the cream cheese so it is covered.
Take the crumbled bacon and cover the salsa completely.
Bake the dip in the Big Green Egg at 325 for 25-30 minutes until bubbly. Serve with pita chips or favorite crackers.
Notes
TIP: Be sure and use gloves when working with jalapenos.
Cooks Recipes http://recipe.cookswarehouse.com/
Google+