Turnip Soup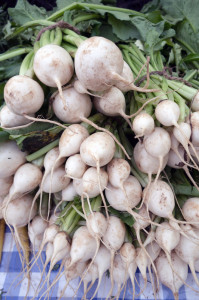 Creamy Turnip Soup
2014-02-20 12:48:14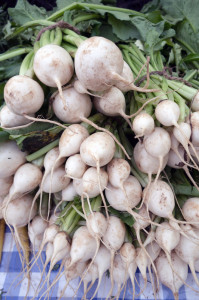 Serves 4
Ingredients
½ lemon
8 medium Hakurei or American turnip bulbs (1 pound), peeled
4 ounces celeriac (2 medium egg– size pieces), peeled
4 cups Kelp Stock (page 6) or low-sodium vegetable stock
½ teaspoon Japanese or Colman's mustard powder
1 teaspoon sea salt, plus more for finishing soup
1 tablespoon medium-aged light brown miso
2 tablespoons olive oil
About ½ block (6 ounces) soft tofu (optional)
½ cup finely shaved fennel bulb
¼ cup finely julienned turnip greens or minced fresh parsley
Instructions
Squeeze the lemon into a medium bowl of water.
Coarsely chop the turnips and celeriac. As you cut the celeriac, place it in the lemon water to prevent browning.
Place the turnip, celeriac, and stock in a large pot over medium-high heat. Bring the stock to a boil, reduce the heat to medium-low, and simmer for 20 minutes or until the vegetables are tender.
Mix the mustard powder with ½ teaspoon hot water to create a paste. Set aside. Working in 3 or 4 batches, transfer the broth and vegetables to a blender or food processor, and purée until smooth. (Note: Be very cautious when puréeing hot liquids. If using a blender, remove the plug in the top and cover the hole with a thick kitchen towel that's folded over. Do not fill the blender or food processor more than half full.) Transfer the first puréed batch to a clean pot and repeat the process. In the last batch, add the salt, miso, olive oil, and tofu (if using), and process.
Before serving, gently reheat the soup, and divide it into soup bowls. Garnish with the fennel and turnip greens. Drop a tiny dab of mustard paste in the center of each bowl. Sprinkle a tiny pinch of salt over each portion. Ask your guests to stir and dissolve the mustard paste into the soup before enjoying it.
Notes
In the past, I have enjoyed this soup made with a special variety of Japanese turnip called Hakurei. The Hakurei turnip is moister, sweeter, and more tender than the larger American turnip varieties, but may not be as readily available. In adapting this recipe to American turnips, I was pleasantly surprised to discover a delicious yellow-tinged soup with a more robust turnip flavor.
Adding tofu creates an extra-smooth texture in the soup, and the olive oil contributes to a satisfying feel in the mouth. Japanese mustard adds interesting pungent and bitter flavors, perfect complements to the other flavors in the soup. This soup is excellent served hot or cold.
TIP: Choose turnips that are plump, firm, and heavy for their size, and topped with crisp greens (if they come with greens). If the turnips do come with greens, immediately cut off the top stems and leaves so that the leaves no longer draw moisture from the bulb. Reserve those flavorful greens for miso soup or a salad.
Adapted from Hiroko's American Kitchen, Cooking with Japanese Flavors by Hiroko Shimbo/Andrews McMeel Publishing, LLC
Adapted from Hiroko's American Kitchen, Cooking with Japanese Flavors by Hiroko Shimbo/Andrews McMeel Publishing, LLC
Cooks Recipes http://recipe.cookswarehouse.com/
Google+