Coeur a la Creme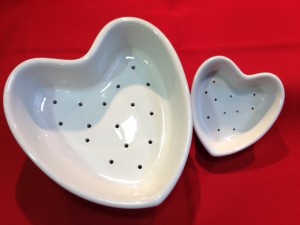 Coeur a la Creme with Balsamic Glazed Strawberry
2014-02-20 13:12:20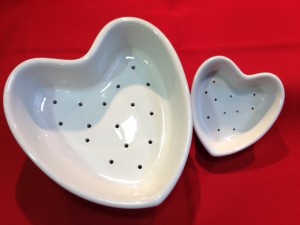 : "Here is a great and easy dessert to make for Valentine's dinner! No baking process, just good ingredients whipped together and then set overnight. So great you can make it in advance! Even the coulis could be made 2 days ahead. So this is your next dessert to try!" Need a mold for this easy, impressive dessert? Stop by any of our stores! Coeur a la Crème Individual $6.99 Coeur a la Crème Large $12.99
Ingredients
6 ounces cream cheese at room temperature (do not use the light version!)
1/3 cup confectioner's sugar
1 đ cup heavy whipping cream
1 teaspoon vanilla extract (good one, pure!)
1 vanilla bean, split in 2 and reserve seeds
1/2 Lb strawberries, hulled and sliced
3 tablespoons turbinado sugar
1 tablespoon very good balsamic vinegar
Strawberry coulis
Instructions
Line a 7 inch Coeur à la crème mold or a fine mesh strainer with 2 layers of cheese cloth. Set on a rimmed cookie sheet.
In the bowl of an electric mixer fitted with the paddle attachment, cream together cream cheese and confectioner's sugar. Scrape down the bowl and add in the cream, vanilla extract, and seeds from the vanilla bean. Mix slowly at first to ensure all cream cheese is incorporated, scraping down the bowl as necessary. When the mixture is smooth, with no lumps, raise the speed to high, and beat until fluffy.
Transfer the cheese mixture to the cheese cloth lined mold. Wrap cheese cloth up around the mixture, and cover with plastic wrap. Refrigerate for 8 hours or overnight.
While the cheese is draining, mix strawberries with sugar and vinegar. Let sit for several hours in the refrigerator, or for an hour or two at room temperature.
When the cheese mixture has finished setting up, discard drained liquid, and pull back the cheese cloth on the top of the cheese mixture. Place the serving dish upside down on top of the cheese mixture. Flip it over, and remove the mold. Carefully pull away the cheese cloth. Garnish with strawberry and vinegar mixture, and strawberry coulis.
Notes
Ingredients for a 7 inch Coeur à la crème mold
Adapted from Ma Cuisine by Adeline
Adapted from Ma Cuisine by Adeline
Cooks Recipes http://recipe.cookswarehouse.com/
Google+