Beans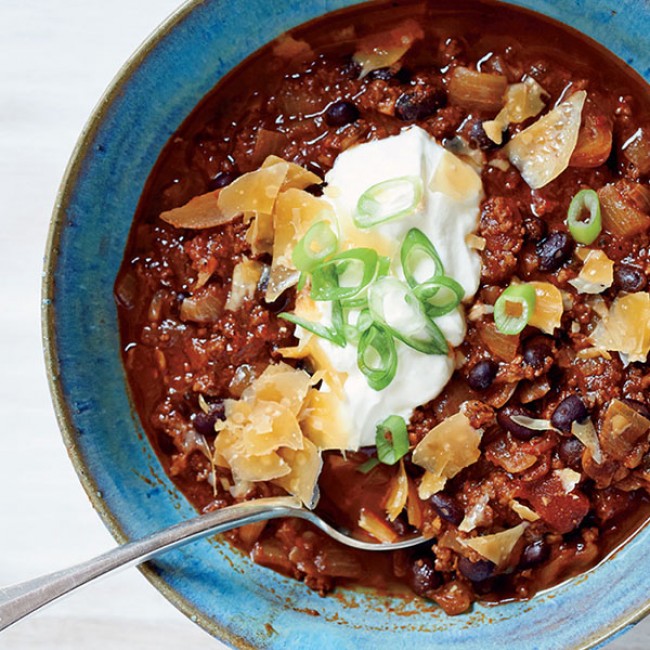 Basic Chili Recipe
2016-10-27 05:31:05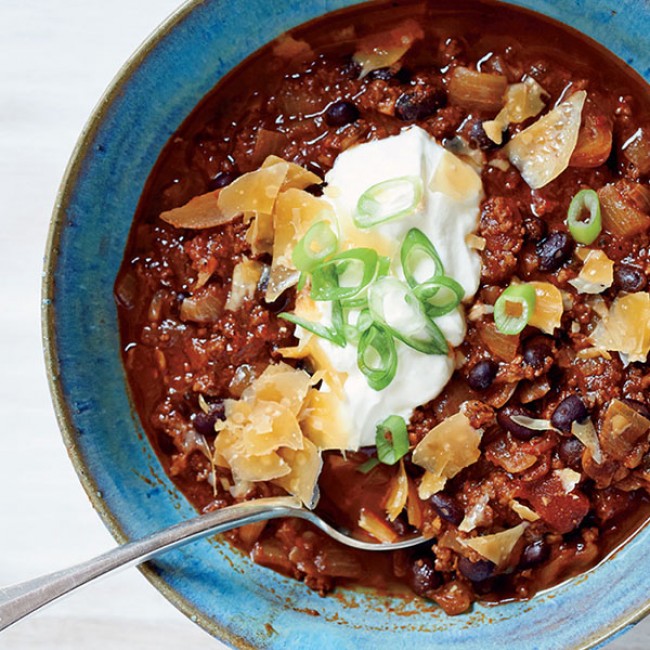 Chili
3 medium onions
Olive oil
6 cloves garlic, smashed
1 tablespoon chopped fresh oregano
Salt and pepper
Cumin
Homemade chili powder (recipe below)
1 pound ground bison
1 small can chipotle peppers in adobo sauce
1 large can chopped tomatoes
1 cup chicken stock
1 bottle robust dark beer
1 can black beans
Chili Powder
Dried ancho, New Mexico and habanero chilies
1 teaspoon cumin
Optional
1 ounce dark chocolate
Fish sauce
Balsamic vinegar
Cream sherry
Soy sauce
Cilantro
Scallions
Sour cream
Grated cheddar
Chili
Dice the onions and saute them in olive oil until they're soft. Add the garlic and let it soften, too. Add the oregano, some salt and pepper, a bit of cumin and 2 teaspoons of your homemade chili powder – more if you like really hot food.
Add the ground bison and cook, stirring, until it loses its redness. Puree 3 or 4 of the chipotle peppers and stir that in, along with the tomatoes and another teaspoon of your chili powder. Add the chicken stock (preferably homemade) and a cup of the beer and let it all simmer at a slow burble for a couple of hours.
Before serving, stir in a cup or so of cooked black beans. Now you get to play with the flavors. Is it hot enough? Do you want more chili powder? Sometimes I'll melt an ounce or so of really good chocolate and stir that in to give it depth. Other times I'll add a spoonful of fish sauce, or a splash of excellent balsamic vinegar. Sometimes soy sauce to spark it up, other times cream sherry to mellow it down. It all depends on my mood. The point is, when you've made your own chili powder, everything else is just window dressing.
You can serve this with cilantro, scallions, sour cream and grated cheddar. Or not. It's that good.
Homemade Chili Powder
I like to use anchos for their winey richness, habanero for their fruity heat, and New Mexicos for their earthy sturdiness.
Wearing rubber or latex gloves to protect your hands, sponge off 2 ancho, 3 New Mexico and 3 habanero chilies (they're almost always dusty). Cut them in half and remove the tips, where the majority of seeds congregate in dried peppers. Discard the seeds.
Put the chilies into a heavy-bottomed pan (I use cast iron) and toast them over medium-high heat for about 4 minutes, turning from time to time with tongs, until they have darkened slightly. Allow them to cool and then grind the chilies to a powder in a spice grinder or coffee mill. Stir in a teaspoon of toasted ground cumin.
Notes
Courtesy of Le Creuset, adapted from My Kitchen Year: 136 Recipes that Saved My Life by Ruth Reichl
Adapted from My Kitchen Year: 136 Recipes that Saved My Life
Adapted from My Kitchen Year: 136 Recipes that Saved My Life
Cooks Recipes http://recipe.cookswarehouse.com/