Not Refried Beans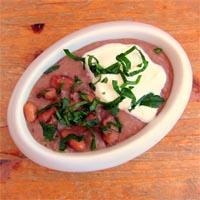 Not Refried Beans
2017-01-26 07:11:52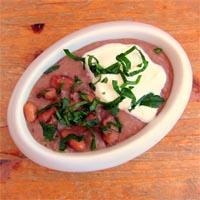 Serves 8
Much better for you than something out of a can, these beans are perfect for game day nachos and dips!
Ingredients
1 tablespoon vegetable oil
1 onion, chopped
1 bunch cilantro (or parsley), stems and leaves divided and chopped
¼ teaspoon chipotle powder
1/2 teaspoon cumin
2 cups dry borlotti, pinto or kidney beans, soaked
2 cups water
1 teaspoon salt
Instructions
In your Fagor prssure cooker, heat the oil and sauté the onion, cilantro stems chipotle and cumin until the onion softens. Add the beans and water.
Close and lock. Turn heat to high. When the pressure is reached, lower heat and cook for 7-10 minutes at high pressure (or for 15-20 minutes at low pressure).
Open with the natural release method. Remove a heaping spoonful of beans (for garnish) and sprinkle the rest in the cooker with salt. Mash using a potato masher to the desired consistency.
Serve sprinkled with whole beans, parsley and an optional dollop of sour cream.
Notes
*Note: Cooking times vary depending on portion size, heating method and other possible variables. We recommend you cook your meal until the minimum time and add additional cooking time if needed for meal completion.
Recipe and image contributed by: www.hippressurecooking.com
Courtesy Fagor America
Adapted from Fagor America
Cooks Recipes http://recipe.cookswarehouse.com/
Google+