Guacamole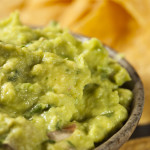 Guacamole
2015-04-30 09:23:59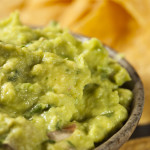 Here's an easy and delicious recipe to enjoy from Chefs Janet Zimmerman and Dave Scantland. It's perfect for scooping with chips or veggies, or try a dollop on your favorite taco.
Ingredients
2 avocados, halved, with pits removed
2 tablespoons diced onion*
1 small jalapeno, seeded and minced
1 tablespoon minced fresh cilantro (optional)
1 teaspoon cumin
Juice of one lime
1 teaspoon kosher salt or to taste
Instructions
Scoop the flesh from the avocado halves into a medium bowl.
Mash with a large fork or a potato masher until mostly smooth with some chunks remaining.
Add remaining ingredients and stir. Adjust seasoning.
Notes
Tip: if you have a potato ricer, it makes mashing the avocado really easy. Use the coarsest disk insert and rice the avocado into the bowl before adding the other ingredients. It's especially handy if your avocados are less than perfectly ripe.
*To mellow the flavor of the raw onion, after dicing, cover it with cold water and let sit for 10 to 15 minutes. Drain and pat dry.
Copyright © He Cooks-She Cooks Reprinted with permission
Adapted from He Cooks-She Cooks
Cooks Recipes http://recipe.cookswarehouse.com/
Google+