Herb Pesto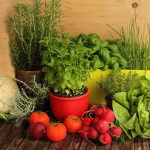 Herb Pesto
2015-04-24 13:47:25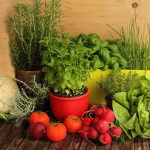 This Saturday is National Herb Day! Celebrate with a freshly made pesto that adds a touch of spring to a multitude of recipes. This one uses the classic combination of basil and pine nuts, but feel free to substitute whatever herbs and nuts you have on hand! Learn more about growing and cooking with fresh herbs next Thursday at our Decatur store in our always popular Spring herb class with Chef John Wilson!
Ingredients
1/2 cup (120 ml) olive oil
1/2 cup (50 g) grated Parmesan cheese
3 medium garlic cloves, peeled
2 cups (80 g) fresh basil leaves
3 Tablespoons (25 g) pine nuts
Salt and ground black pepper, to taste
Instructions
Place all ingredients, except salt and pepper, into the Vitamix container in the order listed and secure lid.
Select Variable 1.
Turn machine on and slowly increase speed to Variable 7.
Blend for 1 minute, using the tamper to press the ingredients into the blades.
Notes
Recipe yields enough sauce to coat one pound of pasta.
Recipe courtesy of Vitamix.
Adapted from Vitamix Blenders
Cooks Recipes http://recipe.cookswarehouse.com/
Google+