Asparagus and Gruyere Strata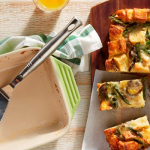 Asparagus and Gruyere Strata
2015-05-08 10:45:47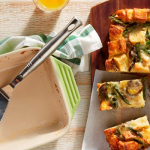 Serves 8
Sunday is Mother's Day! It's time to turn the tables and spoil mom. Whether you want to surprise her with breakfast in bed or invite the entire family for brunch, this recipe from our friends at Le Creuset captures the flavors of spring, is easily made ahead and feeds a large group.
Ingredients
9 eggs
1 3/4 cups whole milk
Salt and pepper to taste
3 cups chopped asparagus
4 ounces gourmet mushrooms, such as portobello or cremini
1 green onion, finely chopped
5 cups crusty French bread, cut into 1-inch cubes
16 ounces Gruyere cheese, coarsely grated
Instructions
Preheat oven to 350F.
In a large bowl, beat eggs. Add milk, and season with salt and pepper.
In a separate large bowl, combine asparagus, mushrooms and green onion.
Prepare the baking dish with butter or cooking spray. Layer the bottom with one third of the bread. Top with one third of the asparagus mixture and a third of the cheese. Repeat twice. Allow strata to stand at room temperature at least 30 minutes.
Bake strata, uncovered, 45 to 55 minutes on the middle rack of the oven until the top is golden brown and the center is cooked through.
This dish may be prepared in advance and refrigerated overnight. Bring to room temperature 30 minutes before baking.
Notes
Created for the 1 4/5 qt. Rectangular Dish
Cooks Recipes http://recipe.cookswarehouse.com/
Google+