Witch's Fingers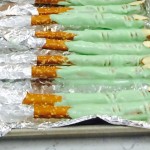 Witch's Fingers
2015-10-30 14:20:40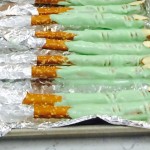 Last Saturday at our East Cobb store, Chef Stephanie Smithmyer led the "Frightfully Fun Foods" class for kids ages 6 to 9. Our young chefs had a chance to make and enjoy a variety of Halloween-themed recipes such as Eyeball Sliders, Ghoulish Ghoulash, and these tasty (and spooky) Witch's Fingers! Join in on the fun! We have more kids classes coming up this fall. Topics include At-Home Asian, Soups and Sammies, Knife Skills for Teens and Tweens, Holiday Cookie Decorating, and Holiday Treats to Share as gifts - and more!
Ingredients
10 pretzel rods
1 bar of Baker's white chocolate
3-4 drops green food coloring
1 drop of yellow food coloring
10 sliced almonds
Toothpicks
Instructions
Wrap the ends of the pretzel rods with tin foil, about 2 inches from bottom.
Chop the white chocolate and place in a metal or glass bowl over a pan of simmering water, stirring occasionally. Add the green food coloring and a drop of yellow to get the right color of green. Pour chocolate into a small sheet pan.
Roll the pretzel rods around in the chocolate to cover completely. Place on another parchment lined sheet pan. Place a sliced almond on end of rod to form fingernail. Take a toothpick and make a couple of lines in two places on rod to make knuckle lines.
Let chocolate cool and set up. Remove foil from end so you have a spot to hold your hand to eat your finger!
Cooks Recipes http://recipe.cookswarehouse.com/
Google+