Desserts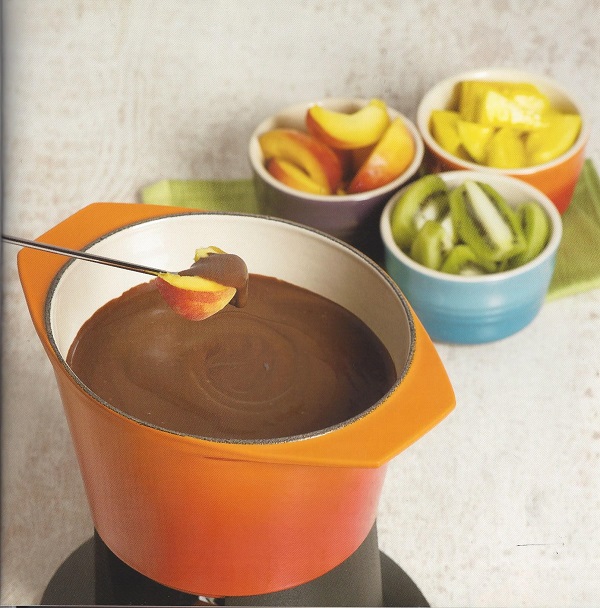 Bitter Chocolate and Orange Fondue
2018-02-06 14:47:54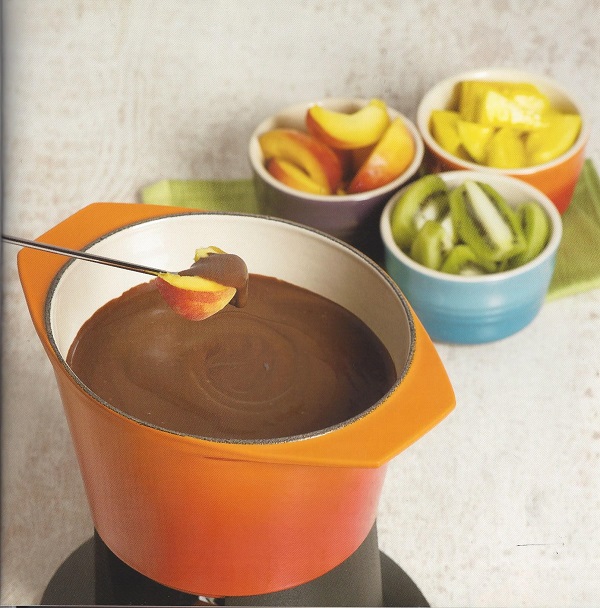 Serves 6
If you have any chocoholics in your family or among your friends, then this fondue is a must. Fresh plumb strawberries or figs go particularly well with the chocolate. This recipe is made in a small chocolate fondue, which uses a small candle to maintain the chocolate at just the right temperature.
Ingredients
8 oz semi-sweet chocolate (minimum 70% cocoa solids), broken into pieces
Finely grated zest of ½ orange
¾ cup heavy cream
1 TBSP unsalted butter
2 TBSP Cointreau or other orange-flavored liqueur
Fruit, to serve
Instructions
Put the chocolate into the fondue pot and melt over a low heat on the stove. Add the orange zest, cream and butter as the chocolate begins to melt. Keep stirring until all the ingredients are melted. Stir in the Cointreau.
Transfer the fondue pot to its stand above the lit candle flame to keep it warm. Stir occasionally, if you are not serving immediately. Serve with fruit to dip into the fondue.
Notes
Cooking Tips
• A larger traditional Gourmande fondue set can also be used for this recipe, but remember to keep the burner flame very low to avoid burning the chocolate.
• Allow approximately 2oz of dipping ingredients per person.
• For a special occasion, stir in 2 TBSP of your favorite liqueur to the melted chocolate mixture. If you are serving this fondue to children, then use orange juice instead of liqueur.
From The Cast Iron Way to Cook
©Copyright 2012 Le Creuset UK Ltd
Cooks Recipes http://recipe.cookswarehouse.com/
Peppermint Bark
2017-12-13 15:13:59
So festive, so pretty, and definitely so delicious! This is a classic holiday treat that is sure to impress your pickiest guest. Chocolate and white chocolate layered and flavored with a hint of mint, all topped with crushed peppermint candies.
Ingredients
2 2/3 cups chopped bittersweet chocolate (good quality)
2 cups chopped white chocolate (good quality)
1 teaspoon peppermint extract
1/4 cup crushed peppermint candy (candy canes work!)
Instructions
Very gently melt the bittersweet chocolate. As always, when melting chocolate it is best to go low and slow. I usually keep about 5% of the chocolate out. When the chocolate is just about melted, take it out and add the 5% and keep stirring. It will continue to melt.
Stir the 1 tsp extract into the chocolate.
Pour onto lined (parchment or foil) USA pan half sheet pan. . You can spread as thin or thick as you like. If you have an offset spatula, it is so easy to spread! I find an 8"x12" oval is a good guideline.
Now, let the chocolate sit. You can place in refrigerator. Keep a close eye on it. You want it to be just about set up, but not completely hard. This is important so the layers adhere together. You should be able to press the chocolate and have a little on your finger.
Then, melt the white chocolate using the same method as the dark layer. Add 1/2 of the peppermint candy and stir.
Spread evenly over the dark chocolate layer. Sprinkle the remaining peppermint candy on top.
Allow to harden completely and then break into pieces.
Notes
Makes a lovely addition to a cookie tray and a fantastic gift!
©Copyright USA Pan, 2017
Cooks Recipes http://recipe.cookswarehouse.com/