Cheesy Cornbread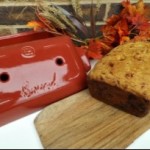 Cheesy Cornbread
2015-11-09 11:57:36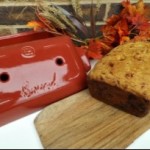 Baking expert Ashley McCord will be joining us on the evening of November 17 at our Decatur location for a cooking class on "The Essentials of Bread Baking". Just in time for your holiday baking, she'll show you how to use the Ankarsrum mixer and Emilie Henry bakeware to make Gluten-Free Sandwich Bread, Garlic Baguette with Freshly Made Cheese, One-Hour Bread with Garlic Honey Butter, Orange-Cranberry Cinnamon Rolls with Cream Cheese Icing, and Chocolate Espresso Cookies. Sign up while seats are still available! In anticipation of the class, she's been playing around in the kitchen! Today she shares this cheesy cornbread recipe that goes great with many of your favorite fall soups and chilis.
Ingredients
1 1/2 cups milk
4 TBSP honey
2 eggs
6 TBSP butter, melted
1 1/2 cups cornmeal
1 1/2 cups all purpose flour
2 TBSP baking powder
1 1/2 tsp salt
2 cups cheese, shredded
Instructions
Place Emile Henry loaf pan base in the oven and preheat to 400*
Position the double whisk bowl and single wire whips onto the Ankarsrum mixer base Place milk, honey, eggs, and melted butter into the bowl and mix on the lowest speed until well mixed.
Still on the lowest speed, add 1 cup of flour and corn meal mixture, baking powder and salt. Add remaining flour and corn meal until well combined.
Add the cheese and mix just until all is incorporated.
Remove loaf pan base from the oven and place a piece of wax paper in the bottom to cover the holes in the base. Lightly spray with cooking spray.
Pour batter into the pan and smooth on top. Place the lid on the pan and put directly into the oven.
Bake for 40 minutes with the lid on and then remove the lid and bake an additional 5- 10 minutes or until golden brown on top.
Remove from oven and transfer loaf to a cooling rack.
Adapted from The Essentials of Bread Baking Class at The Cook's Warehouse
Adapted from The Essentials of Bread Baking Class at The Cook's Warehouse
Cooks Recipes http://recipe.cookswarehouse.com/
Google+