Ribbon (shaved) Asparagus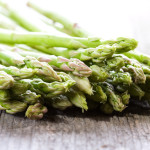 Ribboned (shaved) Asparagus
2015-03-23 15:25:49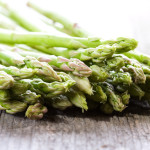 Serves 4
This weather has us longing for spring - and all of the yummy vegetables it brings! Nothing says spring quite like asparagus, and nothing could be easier than this recipe from James Beard award-winning cookbook authors Nathalie Dupree and Cynthia Graubart. Join us on April 9 at our Midtown store as we host the cookbook release party for this duo's latest title, Mastering the Art of Southern Vegetables.
Ingredients
1 pound asparagus
2–4 tablespoons butter or oil
Salt
Freshly ground black pepper
Grated Parmesan cheese, optional
Instructions
Cut off any tough ends from the asparagus. Using a vegetable peeler, peel the asparagus from underneath the lowest flower all the way to the cut end. Rotate around the asparagus, continuing until all the asparagus is ribboned. (If you are left with a small interior portion, put it on the counter and cut thinly.)
To eat cold, drizzle with oil, and season with salt and pepper and some Parmesan, or use the asparagus as a bed under a cooked chicken breast or piece of fish. To eat hot, heat butter or oil in a large pan, add the asparagus ribbons, and toss over heat until just heated through. Season with salt and pepper. Top with Parmesan cheese, if desired.
Notes
Fresh, tender asparagus are an exceptional spring delight when shaved into thin ribbons and eaten raw. But they are also lovely tossed briefly over heat to just barely warm them.
Adapted from ©2015 Mastering the Art of Southern Vegetables
Adapted from ©2015 Mastering the Art of Southern Vegetables
Cooks Recipes http://recipe.cookswarehouse.com/
Google+