Maisie's Carrot Cupcakes with Cream Cheese Frosting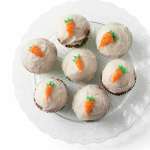 Maisie's Carrot Cupcakes with Cream Cheese Frosting
2015-03-26 09:37:08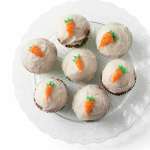 You may think that carrots are just for snacks and salads. Think again! Carrots taste terrific in desserts, too. What better way to eat your veggies than in a cupcake? It's fun to color some of the frosting orange and green with food coloring to make decorative carrots on top of each cupcake.
Cupcakes
2 cups all-purpose flour
2 teaspoons baking powder
1 teaspoon baking soda
¾ teaspoon salt
1 tablespoon cinnamon
1 ¾ cups sugar
1 ½ cups vegetable oil
4 eggs
3 cups grated carrots (about 9 carrots)
Frosting
8 ounces cream cheese, softened
4 tablespoons butter, softened
3 ½ cups confectioners' sugar
1 teaspoon vanilla extract
Food coloring (orange and green)
Pastry bag with icing tips
Cupcakes
Preheat the oven to 350°F (180°C)
Line two 12-cup muffin pans with paper liners. Sift the flour, baking powder, baking soda, salt, and cinnamon in a large bowl. Set aside.
Blend the sugar, oil, and eggs in a bowl with an electric mixer until fluffy.
Mix in the grated carrots until combined.
Add the dry ingredients to the wet ingredients and blend thoroughly.
Use an ice cream scoop to fill each paper muffin cup about halfway.
Bake the cupcakes for 25 minutes, until light brown on top. Remove them from the oven and cool completely on a rack before frosting.
Frosting
Beat the cream cheese and butter together in a bowl with an electric mixer.
Slowly add the confectioners' sugar and vanilla extract. Beat until the frosting is smooth and creamy.
Frost the cooled cupcakes with a butter knife.
Divide the remaining frosting into two bowls. Add orange food coloring to one bowl and green food coloring to the other. Mix well. Transfer the frosting to pastry bags.
Use the writing tips — a slightly larger one for the carrots and a smaller one for the leaves.
Practice a few carrots on a piece of waxed paper, then make one on each cupcake.
Start with a big squish of orange frosting, then draw the tip of the bag toward you, letting up on the pressure so the carrot comes to a point.
Add three green leaves and your carrot patch is all set!
Notes
Recipe excerpted from Cooking Class © by Deanna F. Cook, photography © by Julie Bidwell, used with permission from Storey Publishing.
Adapted from Cooking Class: 57 Fun Recipes Kids Will Love to Make (and Eat!)
Adapted from Cooking Class: 57 Fun Recipes Kids Will Love to Make (and Eat!)
Cooks Recipes http://recipe.cookswarehouse.com/
Google+