Rhubarb Cream Pie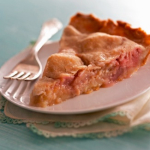 Rhubarb Cream Pie
2015-03-13 08:50:17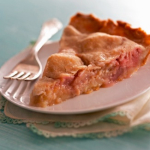 Serves 6
Saturday, March 14, is National Pie Day (get it? 3.14=Pi) To help us celebrate, cookbook author and chef Jamie Gorey, the southern chick of Two Chicks from the Sticks, shares her recipe for a perennial springtime favorite - Rhubarb Pie. Can't find rhubarb at the farmer's market? Don't panic! It can be found in the frozen fruit section of your local grocery store. Learn more about back home baking with Jamie on March 21 in her Early Spring Baking Hands On cooking class with recipes from her cookbook (co-authored with lifelong friend Jill Means), Two Chicks from the Sticks: Back Home Baking.
Ingredients
2 9-inch unbaked pie crusts
1 3⁄4 cups sugar
3 eggs, lightly beaten
1⁄4 cup all-purpose flour
3⁄4 teaspoon ground nutmeg
4 cups rhubarb, diced
1 tablespoon butter
Instructions
Preheat oven to 400°F. Line a 9-inch deep pie plate with one unbaked piecrust. Roll out second pie crust; set both crusts in the refrigerator or freezer.
To prepare filling, in a medium bowl combine sugar, eggs, flour, nutmeg, and rhubarb. Pour mixture into prepared pie plate. Dot filling with butter.
Place remaining crust over filling; seal and crimp edges. Cut 4 to 5 small slits in the top of the pie.
Bake for 50 to 60 minutes or until crust is golden brown and the rhubarb juices bubble out the slits in the crust. If crimped edges begin to brown excessively, cover them lightly with pie guards or strips of foil.
Transfer pie to a rack and let it cool for 1 to 2 hours
Notes
Copyright 2011, Two Chicks from the Sticks. Reprinted with author's permission.
Adapted from Two Chicks from the Sticks: Back Home Baking
Adapted from Two Chicks from the Sticks: Back Home Baking
Cooks Recipes http://recipe.cookswarehouse.com/
Google+