Jalapeno Poppers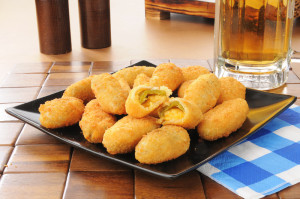 Jalapeno Poppers
2013-10-29 11:29:50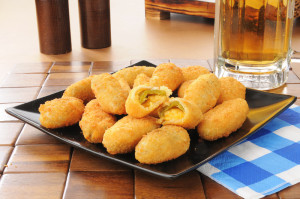 Ingredients
4 oz cream cheese, room temperature
5.3 oz (1 wheel) Boursin cheese, garlic and herbs flavored, room temperature
6 oz grated sharp cheddar cheese
freshly ground salt and pepper
½ cup panko bread flakes
12 large jalapenos, halved and seeded (optional, use an assortment of jalapenos and baby sweet peppers)
Instructions
Heat your outdoor grill to medium-high or oven to 450*.
In a medium bowl, mix cream cheese, Boursin and cheddar cheese. Season with freshly ground salt and pepper.
Pour the mixture into a pastry bag or ziplock bag. If using a ziplock bag, snip off one corner. Squeeze a generous line of the mixture into each pepper half.
Sprinkle the panko bread flakes on top of each pepper.
If grilling, place the peppers onto a flat, perforated grill tray. If baking, place the peppers on a cookie sheet lined with parchment paper.
With either cooking method, cook the peppers until the cheese is bubbling and browned, approx 10 minutes.
Cooks Recipes http://recipe.cookswarehouse.com/
Google+