Oatmeal Cookies
by: admin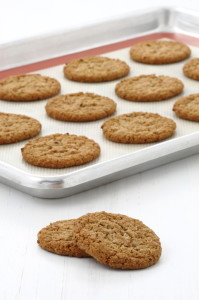 Refrigerator Oatmeal Cookies
2014-02-20 13:17:19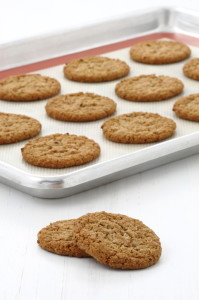 During our last "winter weather event", I received the recipe below and this note from Mary Vaughan, a PA at our Midtown store: "I was trying to think of a comfort food that would be tasty to put together with staples I had on hand yesterday when I realized I couldn't get to the store. I remembered an oatmeal refrigerator cookie recipe that I regularly made when I had children at home. Children and grownups alike enjoy these cookies. They are especially handy given that you can make up the dough and keep it in the freezer and cook as many as you'd like at one time.... ...This is perfect, should you ever be stuck at home wanting to cook with staples that you usually have on hand. I'm a bit of a cookie monster always but especially when it's cold and snowy outside."
Ingredients
¾ cup granulated sugar
3 ½ cups light brown sugar, packed
1 ½ cups butter or coconut oil, melted
4 eggs, beaten
2 cups quick cooking or old fashioned oats
4 cups all purpose flour
2 teaspoons baking soda
½ teaspoon salt
2 teaspoons cinnamon
1 cup chopped nuts
2 cups seedless raisins
Instructions
Mix sugars and butter or coconut oil. Add eggs and oats.
Sift flour, soda, salt and cinnamon together and stir into sugar and butter mixture. Add nuts and raisins and mix well. Pack into 2 waxed paper lined 9" X 5" X 3" loaf pans. Chill thoroughly.
After dough has chilled, turn out dough onto cutting board and slice it into 2 "logs." At this point, you can cover the logs with waxed paper or parchment paper, cover tightly with aluminum foil and keep in freezer until ready to use OR you can go ahead and slice ¼ inch thick, put on ungreased baking pans and bake at 350 degrees for 10 minutes.
Notes
This recipe halves well and is so handy to make up and keep frozen for those occasions when you need to take a little something to someone who is sick or you just want a little extra something to perk you up during any kind of weather.
By Mary Vaughan
Cooks Recipes http://recipe.cookswarehouse.com/
Google+