Cinnamon Rolls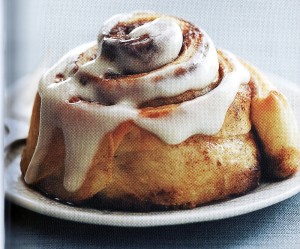 Big As A Plate Cinnamon Rolls with Gooey Frosting
2014-02-20 13:24:51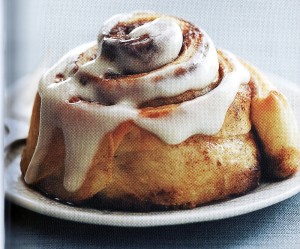 Who doesn't love cinnamon rolls? After freezing weather, kids off school, and icy roads, what we all need is a big, sweet, spicy, ooey-gooey cinnamon roll--still warm from the oven. And not just any cinnamon roll, but one that is Big As a Plate! Sometimes bigger is better. Although these are not as big as the dinner-plate size rolls at Johnson's Corner in Loveland, Colorado, they certainly fill out a dessert plate. For fans of cinnamon rolls from Wheatfields Bakery in Lawrence, Kansas; Machine Shed restaurants throughout Iowa, Wisconsin, and Minnesota; or excess in general—this is your roll. Frosting the rolls while still warm gives a happily gooey result. Makes 6 jumbo cinnamon rolls
Dough
1 cup whole milk
4 tablespoons unsalted butter, softened
1/3 cup granulated sugar
1 teaspoon salt
2 large eggs
3 1/3 cups all-purpose flour, plus more for kneading
2 1/2 teaspoons instant or bread machine yeast
Pan Sauce
4 tablespoons unsalted butter, softened
2 teaspoons cinnamon
2 tablespoons granulated sugar
Cinnamon Filling
1 cup packed dark brown sugar
2 ½ tablespoons cinnamon
6 tablespoons unsalted butter, softened
Gooey Frosting
1 ½ cups confectioners' sugar
¼ cup unsalted butter, softened
Pinch salt
1 tablespoon whole milk
1 teaspoon vanilla extract
Instructions
In a 4-cup measuring cup, combine the milk, butter, sugar, and salt. Microwave on High for 1 minute or until warm. Whisk in the eggs.
In the bowl of a stand mixer fitted with the paddle attachment, place the flour and yeast. Add the liquid ingredients. Mix on low speed, stopping to scrape down the sides of the bowl from time to time, until the dough forms a soft mass and starts to pull away from the sides of the bowl, about 5 to 6 minutes.
Remove the paddle attachment and switch to the dough hook. With the mixer on low, start kneading the dough with the dough hook. Sprinkle with a tablespoon of flour, if necessary, to keep the dough from sticking to the sides of the bowl. When the dough is smooth, not sticky, and springs back when you press it with your finger, you've kneaded enough (about 4 to 6 minutes). Place the dough in a large, oiled mixing bowl, cover with a tea towel, and let rise in a warm place at room temperature until almost doubled, about for 45 to 60 minutes.
For the Pan Sauce, spread the butter in a 9-inch square baking pan. Combine the cinnamon and sugar and sprinkle over the bottom of the pan. For the filling, combine the sugar and cinnamon; set aside.
Transfer the dough to a floured surface. Roll out the dough to a 12 by 26-inch rectangle. Spread the butter over the dough and sprinkle with filling. Pat the filling into the dough. Roll up the dough, starting with a short end, and form the cylinder into a fat 12-inch cylinder. Cut the cylinder into six slices. Arrange the slices, spiral side up, in the prepared pan. Preheat the oven to 350°F.
Bake for 25 to 27 minutes or until risen and browned.
For the frosting, whisk the confectioners' sugar, butter, salt, milk, and vanilla together in a bowl until smooth. Spread over the warm rolls.
Notes
This classic dough makes a cinnamon roll with a sweet flavor and a feathery crumb. Instead of using a stand mixer, you can also make this dough by hand. Makes 6 jumbo, 12 large, 16 to 20 medium, or 48 mini cinnamon rolls
Adapted from permission from I Love Cinnamon Rolls! by Judith Fertig, copyright © 2012
Adapted from permission from I Love Cinnamon Rolls! by Judith Fertig, copyright © 2012
Cooks Recipes http://recipe.cookswarehouse.com/
Google+