Linkie's Football Cookie with Cranberry Cream Cheese Filling
by: admin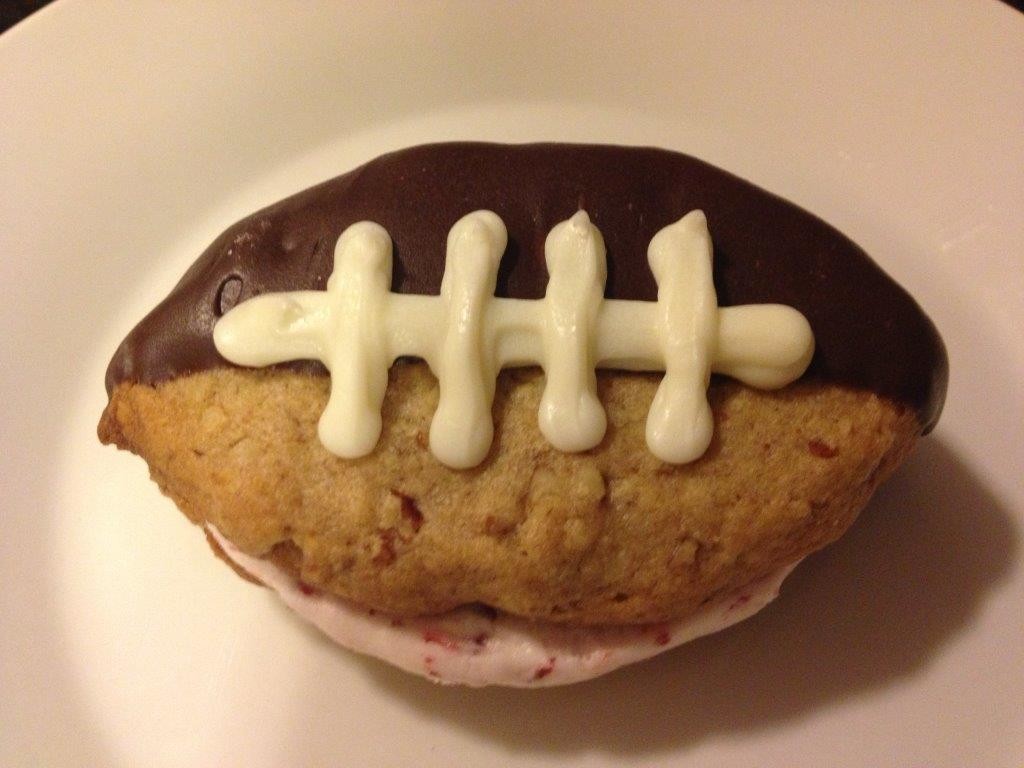 Linkie's Football Cookie with Cranberry Cream Cheese Filling
2016-02-03 15:20:44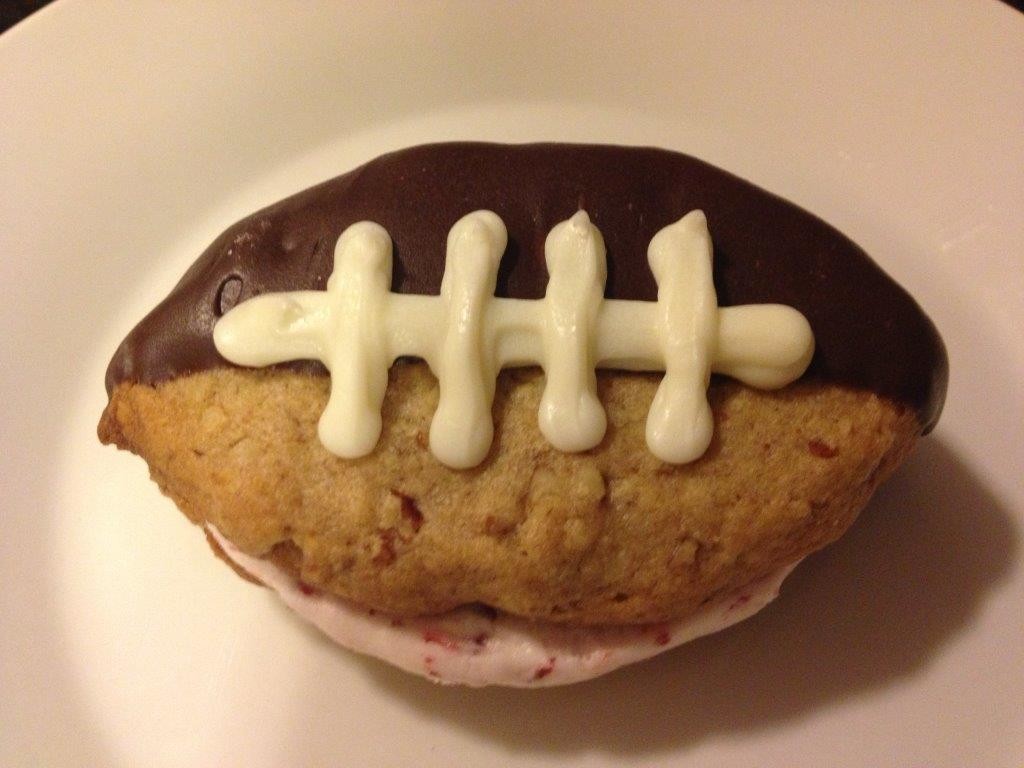 Cookie
1 cup Light Brown Sugar
1 ½ stick Butter
1 egg
1 ¾ cup Flour
¾ tsp. Baking Powder
Pinch of Salt
½ tsp. Lemon Extract
1 tsp. Lemon Zest
2 ½ cups Pecans (chopped finely)
Dark Chocolate for dipping
White chocolate for piping laces
Icing
4 oz. Cream Cheese
2 sticks Butter
½ cup Shortening
2 lb. Powdered Sugar
3 tbsp. water or milk
1 tbsp. Lemon Extract
1 ¼ cup Craisins (chopped very finely)
Cookies
Preheat oven to 375 F.
In a large mixing bowl, cream the butter and sugar together.
Add egg, lemon extract and lemon zest. Beat well.
Add sifted flour, baking powder, and salt. Beat well.
Add pecans and beat until incorporated.
Place dough into a zip lock bag. Cut the one corner of the bag off (about 1" cut off). Pipe dough onto ungreased cookie sheet about 2 "logs. With fingertips, flatten dough and shape into football shapes OR flatten dough and use a football cookie cutter and press down on dough, remove the excess dough.
Bake for 10-12 minutes or until lightly brown around edges.
Cool and then assemble by filling with icing and pressing two cookies together.
Dip half way in tempered dark chocolate or chocolate melts.
Pipe laces on with white chocolate.
Icing
Cream butter, cream cheese, and shortening together.
Add powdered sugar and water/milk, and then beat until smooth.
Add extract and craisins. Beat until well incorporated.
Place in a piping bag or zip lock bag and pipe onto cookies.
Notes
© Copyright 2015, Linkie Marais LinkieMarais.com @LinkieMarais
By Chef Linkie Marais
Cooks Recipes http://recipe.cookswarehouse.com/
Google+