Lightened Up Warm Artichoke and Spinach Dip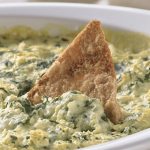 Artichoke and Spinach Dip
2015-01-29 08:50:23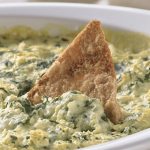 Serves 12
Everyone loves a good Artichoke & Spinach Dip, and this one is as cheesy and tasty as they come! It may not light, but it has been lightened up for those of us who want to indulge a little for the big game, while still sticking to our New Year's Resolutions!
Ingredients
Cooking spray
2 teaspoons olive oil
1 cup chopped onion
2 cloves garlic, minced
6 cups baby spinach (5-6 ounces), washed and dried
1 (14-ounce) can artichoke hearts, rinsed and squeezed dry
¾ cup Cabot No Fat Cottage Cheese or lowfat (1%) cottage cheese
2 tablespoons reduced fat mayonnaise
2 teaspoons Dijon mustard
¼ teaspoon salt
¼ teaspoon ground red pepper (cayenne)
4 ounces Cabot Sharp Light Cheddar, grated (about 1 cup)
Whole Wheat Pita Crisps
Instructions
Set EGG for indirect cooking at 400°F/204°C (or preheat oven to 400°F).
Heat oil in Dutch oven on EGG, add onion; cook, stirring often, for 2 to 3 minutes or until softened and starting to turn golden. Add spinach and garlic; cook, stirring, for 1 to 2 minutes or until spinach has wilted.
Place artichokes, cottage cheese, mayonnaise, mustard, salt and ground red pepper in food processor; process until smooth. Add spinach mixture and cheese; pulse just until blended.
Coat a 3 or 4-cup baking dish with cooking spray.
Pour prepared mixture into prepared baking dish(es).
Cook 25 to 35 minutes or until heated though. Serve hot with pita crisps.
Notes
If making ahead, dip will keep, covered, in refrigerator for up to 2 days until ready to bake.
Adapted from from Cabot Cheese
Cooks Recipes http://recipe.cookswarehouse.com/
Google+