Aaron Sanchez's Mexican Brownies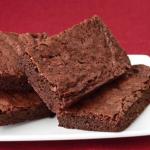 Aaron Sanchez's Mexican Brownies
2015-01-22 08:48:42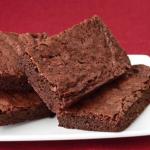 There is an adage in the culinary world that says: "if it grows together, it goes together". This means that foods that grow in the same season or region naturally taste good together. Things like corn and summer squash...tomatoes and basil...berries and mint...and chocolate and chiles. Never combined chocolate and chiles? You're in for a treat! Whether you drop a bit of dark chocolate in a pot of chili or add a dash of cayenne to your next batch of brownies, you'll be convinced after one bite! This recipe, from celebrity chef and Food Network personality Aaron Sanchez, captures the pairing beautifully. We had the pleasure of working with Chef Sanchez at Taste of Atlanta a couple of years ago, he's pictured below with our backstage/prep team! Whether you're serving these as a sweet treat at your big game party or sharing a box with your sweetie, you'll love the balance of sweet and heat!
Ingredients
2 sticks unsalted butter, plus more for greasing
2 cups sugar
4 large eggs
2 teaspoons vanilla extract
2/3 cup good-quality unsweetened cocoa powder
1 cup all-purpose flour
1 teaspoon ground Mexican cinnamon (canela)
1/4 teaspoon pequin chili powder or cayenne pepper
1/2 teaspoon kosher salt
1/2 teaspoon baking powder
Instructions
Preheat the oven to 350 degrees. Line a 9-by-13-inch baking dish with parchment paper, leaving an overhang on two sides. Press the paper into the corners of the pan and lightly grease the paper with butter.
Melt the 2 sticks of butter in a nonstick saucepan over medium-low heat; do not boil. Remove from the heat and let cool slightly. Add the sugar, eggs and vanilla to the saucepan and stir with a wooden spoon until combined.
Add the cocoa, flour, cinnamon, chili powder, salt and baking powder and mix until smooth. Spread the batter in the prepared pan and bake until a toothpick inserted in the middle comes out fudgy, 20 to 25 minutes. Cool in the pan on a rack, then use the parchment paper to lift out the brownies before slicing.
Notes
Photograph by Kate Sears
© 2015 Television Food Network G.P. All Rights Reserved.
Cooks Recipes http://recipe.cookswarehouse.com/
Google+