Roasted Fennel with Parmigiano Reggiano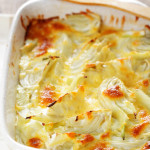 Oven Roasted Fennel with Parmigiano Reggiano
2015-04-17 11:33:10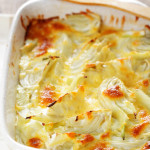 A BIG thanks to Atlanta Magazine for including The Cook's Warehouse as the best cooking class destination for "Wannabe Chefs" in the April 2015 issue - Food Lovers Guide: The D.I.Y. Edition. Including features such as "Shop Like a Chef" and "Follow the Foodies" to pro tips on how to throw a party and take a better food photo, this issue is chock full of our favorite topic- food! Pick up a copy today and brush up on all our great city has to offer for food lovers! Below is a recipe from Chef John Wilson's Mediterranean cooking class. This is the class that writer Betsy Riley attended when researching cooking classes for the feature - it is as simple to make as it is delicious!
Ingredients
1 Lg. or 2 Sm. Fennel Bulbs-trimmed cored and cut into wedges
1 cup Chicken Stock
½ cup Parmesan Reggiano Cheese
Salt and Pepper
Instructions
In a baking pan or dish arrange the fennel wedges in a single layer.
Pour on the stock and season with salt and pepper and top with the grated Parmesan cheese. Cover with foil and bake at 350 for 25 minutes or until the fennel is tender.
Notes
Copyright © 2000 Chef John Wilson. Reprinted with permission.
Cooks Recipes http://recipe.cookswarehouse.com/
Google+