Espresso Blondies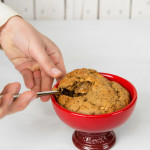 Espresso Blondies
2015-08-28 11:28:41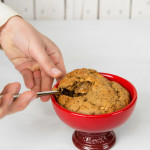 Le Creuset's Ice Cream bowls aren't just for ice cream! Bake your blondie (or cookie, or brownie...) right in the bowl and then top your warm treat with a scoop of your favorite ice cream.
Ingredients
3 cups unbleached all-purpose flour
2 tsp baking powder
1 tsp kosher salt
12 oz unsalted butter, melted and cooled slightly
2 1/2 cups light brown sugar
1/4 cup instant espresso powder
4 large eggs, lightly beaten
2 TBSP plus 2 tsp vanilla extract
Nonstick cooking spray
Instructions
Preheat oven to 350°F.
In a medium bowl, whisk together melted butter, brown sugar, and espresso powder. Stir in eggs and vanilla extract. Add this mixture to the dry ingredients and stir until just combined.
Lightly spray 12 individual stoneware dessert dishes with cooking spray. Scoop 1/3 cup batter into each dish. Bake for 20-22 minutes, or until just set. A wooden pick inserted into the center should come out mostly clean with a few moist crumbs. Do not overbake.
Cool blondies for 10 minutes. Serve warm with ice cream, whipped cream and other topping as desired.
Cooks Recipes http://recipe.cookswarehouse.com/
Google+