Gluten-Free Power Bars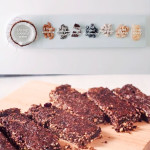 Gluten-Free Power Bars
2015-08-13 10:42:53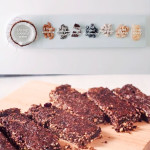 Give your kids - and yourself - a healthy, homemade alternative to pre-packaged snacks. Make a batch of these satisfying power bars on the weekend and enjoy them all week long! Simply drop a few into your lunchbox, backpack or purse for a mid-morning or afternoon snack on the go!
Ingredients
1 cup pistachio nuts, shelled
1 cup sunflower kernel
2 cups cashew nuts
2 cups almonds
1 cup vanilla protein powder, (optional)
1/2 cup coconut water
1 teaspoon vanilla extract
1/4 cup agave, nectar
1/2 cup honey
1/2 cup unsweetened cocoa, powder
1 cup dried, blueberries
Instructions
Preheat oven to 325°F.
Place pistachios, sunflower kernels, cashews and almonds in blender jug and dial to MIX for 20-30 seconds or until finely chopped.
Place chopped nuts into a large mixing bowl.
Add protein powder, coconut water, vanilla extract, agave nectar, honey, and cocoa powder to blender jug and dial to MIX/Speed 2 for 5 seconds.
Combine liquid mixture to chopped nuts, mix until combined then fold in dried blueberries.
Place mixture onto a parchment lined sheet tray and flatten out to about a half inch thickness.
Place tray into preheated oven for 20 min or until top is dry.
Allow to cool and then cut to desired size.
Cooks Recipes http://recipe.cookswarehouse.com/
Google+