Chicken Satay with Charred Plum Compote and Cashew Pesto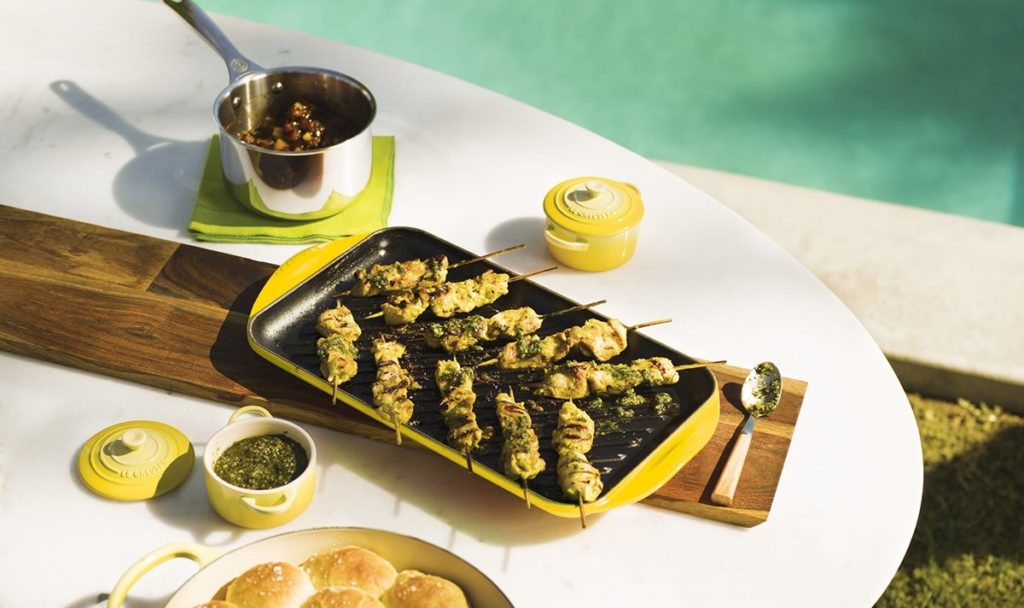 Chicken Satay with Charred Plum Compote and Cashew Pesto
2016-09-20 14:55:28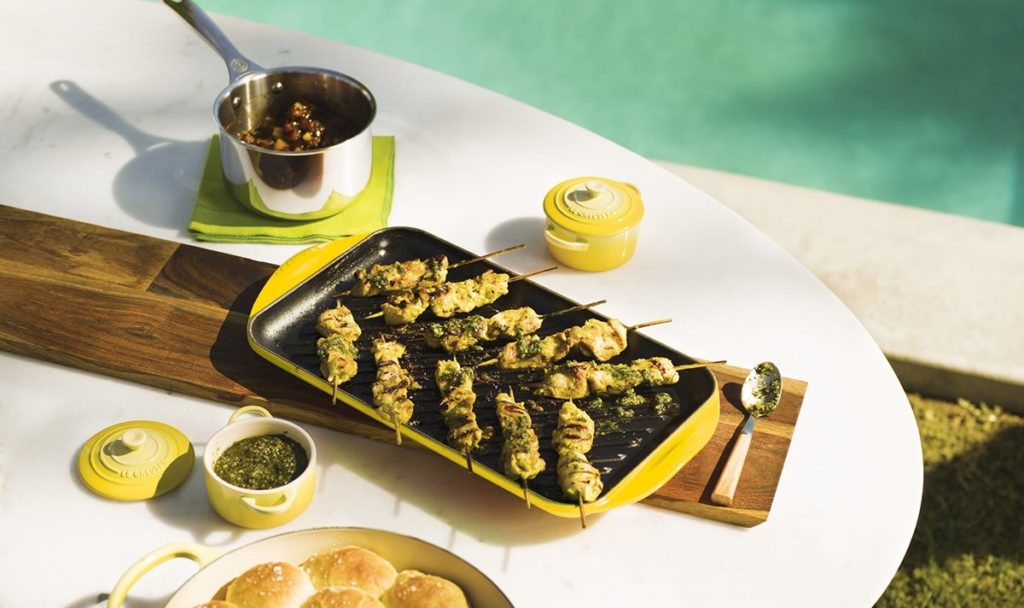 Serves 6
Chicken and Marinade
• 2 pounds boneless, skinless chicken thighs
• 2 cups plain full-fat yogurt
• 2 tablespoons grapeseed or vegetable oil
• 3 tablespoons yellow or red miso paste
• 1 teaspoon ground coriander
• 1 teaspoon ground turmeric
• 1 teaspoon ground black pepper
• 2 cloves garlic, finely minced
• 16 bamboo skewers, soaked in water
• Vegetable oil for grill
Charred Plum Compote
• 6 red plums, halved and pitted
• 1/4 cup sherry vinegar
• 1/4 cup brown sugar
• 2 tablespoons light soy sauce
• 1 tablespoon minced ginger
• 1 cinnamon stick
• Water as needed
Cashew Pesto
• 1 serrano chili, seeded
• 3 large garlic cloves
• 2 tablespoons honey
• 1 1/2 tablespoons minced lemongrass or lemongrass paste
• 1 1/2 cups cashews
• Zest and juice of one lime
• 1 cup fresh mint leaves
• 1 cup fresh parsley leaves
• 1/2 cup fresh cilantro leaves
• 1 tablespoon Sriracha sauce or other chili paste
• 1 1/2 to 2 cups grapeseed oil or light olive oil
• 1 teaspoon salt, if using unsalted cashews
• Pepper
Instructions
Slice chicken thighs into 2-inch strips, about 3 to 4 per thigh. Mix together yogurt and remaining ingredients. Pour over the chicken and mix well. Cover, chill and marinate at least 2 hours or overnight.
For the plum compote: Heat a grill pan over medium-high heat and lightly brush the plum halves with oil. Grill, cut side down, for 3 to 4 minutes, or until plums release from the grill with slightly charred grill marks. Remove from the grill and cut into small dice, reserving 1/2 cup of the diced plums for garnish.
In a saucepan, combine the plums and remaining ingredients, and bring to a boil. Reduce heat to medium-low and simmer 30 to 40 minutes, until the plums are broken down and reduced to a jam-like consistency. Add water as necessary if the compote begins to cook dry or burn. Remove the cinnamon stick. If you desire a smoother consistency, puree in a blender or with a stick blender.
For the cashew pesto: Add all ingredients to a blender, with one cup of oil to start. Blend on medium speed until smooth. With the blender running, add remaining oil in a slow stream until a slightly thick paste is formed. Season with salt and pepper as needed.
When ready to grill the chicken, heat a grill pan over medium-high heat. Remove chicken from marinade and wipe away any excess. Thread two pieces of chicken onto each skewer. Lightly brush the pan with oil. Grill the skewers until cooked through, about 4 to 5 minutes per side. Serve with pesto and compote as dipping sauces.
Notes
© 2016 Le Creuset. All rights reserved.
Cooks Recipes http://recipe.cookswarehouse.com/
Google+