Peanut Butter & Chocolate Ganache Pie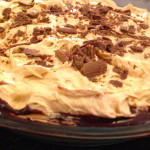 Peanut Butter and Chocolate Ganache Pie
2015-11-16 14:10:48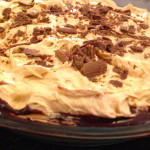 Serves 8
Always leave room for pie! 'Tis the Season for many things, not the least of which is the abundance of cakes, pies and other sweet treats to adorn the dessert table this Thanksgiving and beyond. Jamie Gorey, one half of the "Two Chicks from the Sticks" duo and the queen of "Back Home Baking", returns on Sunday, November 15 at our Midtown location for a cooking class on Heavenly Holiday Pies Hands On. Indulge your sweet tooth as you learn to make classic Pumpkin Pie, Pecan Pie, Apple Pie, and Chocolate Cream Pie. This one below is one of Chef Jamie's personal favorites!
Crust
1 cups graham crackers, crushed fine
2 Tbsp. sugar
¼ cup melted butter
Chocolate Ganache
1 1/3 cups semi-sweet or dark chocolate (Ghirardelli preferred)
2/3 cup heavy cream
2 tablespoons light corn syrup
1 tsp. pure vanilla
Peanut Butter Filling
1 cup creamy peanut butter
1 8-oz pkg. cream cheese, softened
1 1/3 cups confectioner's sugar
1-8 oz. container Whipped Cream* (Such as Cool Whip)
Topping
1 oz. Chocolate Shavings
Crust
Preheat oven to 350®F. In a small bowl, mix together graham crackers, sugar and melted butter. Press into a 9-inch pie plate. Bake on middle rack for 12 minutes. Remove from oven and let cool for 15 minutes.
Chocolate ganache
In a medium heat resistant bowl. Combine chocolate pieces and Heavy Whipping Cream. Microwave on medium power for 2 minutes. Remove from the microwave and stir. The chocolate should melt into the whipping cream. If there are still some chocolate pieces, heat the chocolate/whipping cream mixture for another 30 seconds. Continue this process until the chocolate is melted, but not boiling.
Add the corn syrup and vanilla; stir until completely incorporated. While still warm, pour into the prepared crust. Set aside and let it cool.
Peanut butter filling
In a large bowl combine peanut butter and cream cheese. With an electric mixer combine the two until they are smooth. Add powdered sugar and mix until well combined. Lastly, add the whipped cream. Blend it in until it is just combined. Pour mixture carefully over the chocolate ganache and top with chocolate shavings.
Refrigerate for 4 hours.
Notes
It is best when prepared the night before.
*You can make your own fresh whipped cream if you choose to. In medium sized, very cold mixing bowl, add 1 cup Heavy Whipping Cream, 2 Tbsp. sugar and 1 tsp. vanilla extract. With an electric mixer, beat the mixture on medium/high speed until stiff peaks form.
© 2015 Two Chicks from the Sticks
Cooks Recipes http://recipe.cookswarehouse.com/
Google+