Smoothie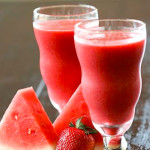 Melon-Berry Sipper
2015-06-19 09:09:45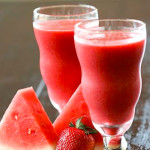 When it's 80 degrees before breakfast, who wants to start the day with a "hot breakfast"? Start your day in a cold and refreshing way with a smoothie that uses seasonal fruits. At only 160 calories, it's also a great "pick-me-up" on a hot afternoon.
Ingredients
3 cups seeded watermelon
1 cup frozen strawberries
1 cup frozen raspberries
1 tbsp fresh lemon juice
Notes
This beverage is simple to blend up during the heat of the summer and it's also an excellent source of fiber.
recipe courtesy of
Blendtec
Cooks Recipes http://recipe.cookswarehouse.com/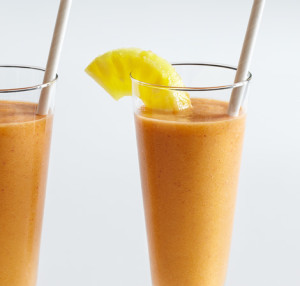 Fruit Salad Smoothie
2014-05-15 15:08:37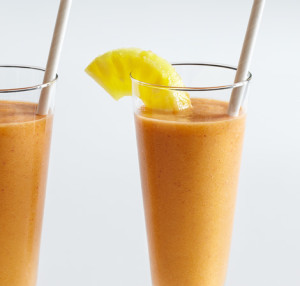 Most of us could stand to get more fruit and vegetables into our day. Here's a delicious and easy way! At only 80 calories per cup, this smoothie is a great mid-morning or afternoon pick me up!
Ingredients
1/2 cup (80 g) red or green grapes
1 medium orange, peeled, halved, seeded
1/2-inch-(1.3cm) thick slice pineapple, core included
1/4 (4 oz) cucumber, peeled
1 (2 oz) carrot, halved
1/4 (2 oz) medium apple, cored, seeded
2 cups (480 ml) ice cubes
Instructions
Place all ingredients into the Vitamix container in the order listed and secure lid.
Select Variable 1.
Turn machine on and slowly increase speed to Variable 10, then to High.
Blend for 1 minute, using the tamper to press the ingredients into the blades.
Cooks Recipes http://recipe.cookswarehouse.com/