Brigadeiros – Brazilian Chocolate Candies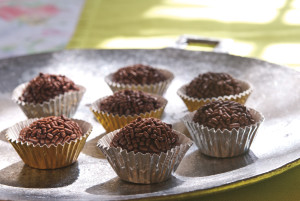 Brazilian Chocolate Candies (Brigadeiros)
2016-01-28 08:20:18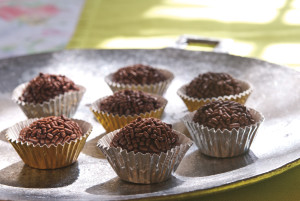 I don't know about you, but I go through days of intense chocolate cravings, and these sweet, sticky, and soft chocolate morsels always hit the spot. They're a bit chewy, very chocolaty, and completely luscious. Brigadeiros are the national candies of Brazil, and they're sold on streets and in fancy candy stores alike. My Brazilian friends tell me that they're the candy of choice for children's birthday parties, and I can see why: these pretty, miniature confections are always bound to make people happy—big or small. There are white chocolate variations made with nuts, like pistachios, or coconut, but this is the classic recipe. Rolling the candies in butter helps the sprinkles stick to the surface of the brigadeiros, creating the candies' signature look. Brigadeiros will stay soft and chewy for up to one week if kept in an airtight container, but they can be stored for up to three weeks. Keep in mind, though, that the longer they're stored, the grainier their texture will become.
Ingredients
1 (14-ounce) can sweetened condensed milk
½ cup cocoa powder, spooned into cup, then leveled
3 tablespoons unsalted butter at room temperature, divided
3/4–1 cup chocolate sprinkles (see note)
Petit four paper cups (see note)
Instructions
Place the condensed milk in a medium saucepan over low heat and stir to loosen, about 1 minute. Gradually sift the cocoa powder into the condensed milk, stirring well between additions (it will take about 5 minutes to incorporate it all); add 1 tablespoon of the butter, stirring until smooth. Increase the heat to medium; continue cooking, stirring constantly and making sure to scrape the bottom and sides of the pan, until the mixture comes to a boil, about 1–2 minutes (be careful not to burn it). Immediately reduce the heat to low and cook, stirring, until the mixture thickens to the consistency of fudge and begins to pull away from the sides and the bottom of the pan, about 4 minutes.
Working quickly, pour the chocolate mixture onto an ungreased baking sheet or into a large bowl and cool completely, about 45 minutes (the mixture will thicken into a chewy consistency). Using your hands, roll the cooled chocolate into balls by the teaspoonful (it helps to coat the spoon with cooking spray so that the candy doesn't stick to it). Rub some butter between the palms of your hands and roll the balls again to coat them with the butter. Roll the brigadeiros into the sprinkles to coat and place each in a paper cup. Let sit at room temperature for 1 hour before storing them in airtight containers.
Notes
NOTE: Brigadeiros may also be rolled in chopped pistachios, sugar, or cocoa.
Petit fours paper cups are smaller than cupcake baking paper cups. If you can't find them, store the brigadeiros between layers of parchment paper (so they won't stick to each other).
From LATIN AMERICAN STREET FOOD: THE BEST FLAVORS OF MARKETS, BEACHES, AND ROADSIDE STANDS FROM MEXICO TO ARGENTINA by Sandra A. Gutierrez. Copyright © 2013 by Sandra A. Gutierrez. Used by permission of the University of North Carolina Press. www.uncpress.unc.edu
Cooks Recipes http://recipe.cookswarehouse.com/
Google+