Blackeyed Pea Hummus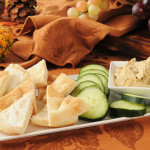 Blackeyed Pea Hummus
2014-12-31 09:13:02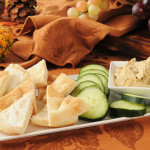 Some of our fondest 2014 memories involve Simple Abundance cooking classes and our ongoing partnership with the Atlanta Community Food Bank. In 2014, Atlanta chefs taught cooking classes hosted at The Cook's Warehouse that raised over $23,000 for the food bank. Every December, our owner Mary Moore and Sherlock's Decatur wine specialist Don Hackett teach a holiday themed class, this year's class was about "NEW New Year's Day Traditions". The recipe below was featured and is a great snack to share as you kick off 2015!
Ingredients
1 – 16 oz. bag frozen Black Eyed Peas (can also cook fresh or use canned)
3-4 Tbsp olive oil
1 ½ large shallot, peeled and finely minced
2-3 cloves pressed garlic
1 tsp ground cumin
½ tsp ground coriander
1 pinch kosher salt
1 pinch freshly ground black pepper
¼ cup Krinos tahini in a glass jar
3 Tbsp fresh squeezed lemon juice
Tabasco or Sriracha to taste
Smoked Paprika for garnish
Instructions
Cook the black eyed peas according to the instructions. If using canned, rinse them well. If fresh, simmer in water for about 20-25 minutes until they are tender.
Heat a sauté pan over medium heat with 1 Tbsp of the olive oil. Add the shallots, sprinkle with salt and pepper and sauté until lightly brown. Using a garlic press, press the garlic out and into the pan; sauté for another 2 minutes. Add the cumin, and coriander and sauté briefly.
Pour the contents of the pans into the bowl of a food processor. Add the black eyed peas, lemon juice, tahini and optional hot sauce of your choice. Blend the ingredients until smooth and the texture you prefer. Add the remaining olive oil and a little water to thin the mixture as desired adjust the taste with salt and pepper
Notes
Served with herbed pita crisps, crackers, or vegetables.
Cooks Recipes http://recipe.cookswarehouse.com/
Google+