Buttermilk Biscuits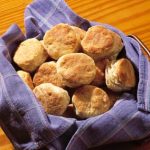 Buttermilk Drop Biscuits
2015-01-15 09:03:10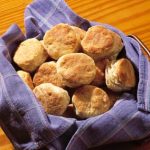 A warm bowl of soup or stew is only made better when it's served with homemade bread! What better to soak up all of that delicious broth? Here's an easy biscuit recipe from our friends at Lodge Manufacturing. No rolling pin or biscuit cutter is needed, just blend and drop in your pan by the spoonful!
Ingredients
2 cups all-purpose flour
1 tablespoon baking powder
1/4 teaspoon baking soda
2 teaspoons sugar
1/2 teaspoon cream of tartar
1/4 teaspoon salt
1/2 cup butter, margarine or shortening
1-1/4 cup buttermilk
Instructions
In a bowl, stir dry ingredients together.
Cut in butter, margarine or shortening to coarse crumb stage.
Add buttermilk. Stir until just blended.
Drop dough into a Mini Cake Pan. Fill quite full.
Bake 15-18 minutes in 450º F oven. Serve warm.
Notes
Optional: Add 2 tablespoons finely shredded carrots, 1 tablespoon snipped parsley, 1 tablespoon chopped green onion
Copyright © 2015 Lodge Manufacturing Company, South Pittsburgh, Tennessee. All Rights Reserved.
Cooks Recipes http://recipe.cookswarehouse.com/
Google+