Turkey Chili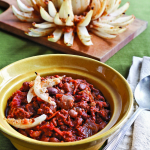 Quick and Easy Turkey Chili from Lighten Up Y'all
2015-02-26 15:37:10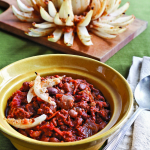 Serves 6
Indulging in a comforting bowl of chili sounds like a great idea, doesn't it? Go ahead! A "lightened up" recipe from Chef Virginia Willis, this turkey chili is not overly indulgent - although you won't know from the hearty, satisfying flavor. And it's quick and easy enough for a weeknight dinner. What's not to love about that?
Ingredients
1 tablespoon pure olive oil
1 sweet onion, chopped
3 large garlic cloves, chopped
1 (28-ounce) can no-salt-added whole tomatoes
2 (14.5-ounce) cans of low-sodium pinto beans, rinsed and drained
1 pound ground turkey
1 carrot, grated
3 cups low-sodium tomato juice
2 bay leaves, preferably fresh
¼ cup ground dried red chiles
1 teaspoon ground cumin
1 teaspoon ground coriander
½ teaspoon cayenne pepper, or to taste
Coarse kosher salt and freshly ground black pepper
Instructions
Heat the oil in a large heavy-bottomed pot over medium heat.
Add the onion and cook until soft and translucent, 3 to 5 minutes.
 Add the garlic and cook until fragrant, 45 to 60 seconds. Add the tomatoes, beans, turkey, and carrot. Using a wooden spoon, break up the turkey, then add the tomato juice.
Bring to a boil over high heat. Decrease the heat to simmer and add the bay leaves, ground chiles, cumin, coriander, and cayenne pepper. Season with salt and pepper.
Simmer, uncovered, stirring occasionally, until the turkey is tender and the flavors have married, about 30 minutes. Taste and adjust for seasoning with salt and pepper.
Ladle into warmed bowls and serve immediately.
Notes
Calories 330 Fat 13 g Carbs 33 g Fiber 11 g Protein 20 g
Reprinted with permission from Lighten Up, Y'all by Virginia Willis, copyright (c) 2015. Published by Ten Speed Press, a division of Penguin Random House, Inc. Photography © 2015 by Angie Mosier. For more information, visit www.virginiawillis.com
Adapted from Reprinted with permission from Lighten Up, Y'all
Cooks Recipes http://recipe.cookswarehouse.com/
Google+