Potato, Leek and Chickpea Soup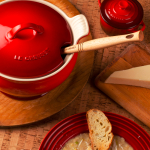 Potato, Leek and Chickpea Soup
2015-02-19 09:12:29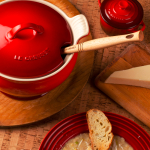 Serves 8
Looking for something warm and satisfying on a cold winter's night? This soup recipe, courtesy of our friends at Le Creuset, is easy to pull together for a weeknight dinner! Serve with an extra drizzle of olive oil, grated parmesan cheese, and a crusty loaf of bread to soak up every last drop of goodness!
Ingredients
5 – 6 leeks
3 tablespoons butter
3 tablespoons extra-virgin olive oil
3 cloves garlic, chopped
3 – 4 small potatoes, peeled and cubed (3 – 4 cups)
2 (15-ounce) cans chickpeas, drained
3 cups chicken broth
1 cup freshly grated Parmesan cheese
Sea salt and freshly ground pepper to taste
Instructions
Discard tough green tips of leeks. Slice lengthwise, rinse well, and roughly chop. Reserve some for garnish.
Melt butter and olive oil over medium heat in a large Dutch oven. Add leeks and garlic, cooking for 10 minutes or until leeks are translucent. Add potatoes and chickpeas, cooking 2 – 3 minutes. Add chicken broth and bring to a boil. Reduce heat and simmer 20 minutes.
Remove from heat and cool slightly. Puree with an immersion blender, or in batches with a regular blender. If you prefer a chunkier texture, only puree half the soup.
Stir in Parmesan, reserving some for garnish. Add salt and pepper to taste. Transfer to the soup tureen. Top individual portions with extra Parmesan and leeks, and a dash of olive oil.
Cooks Recipes http://recipe.cookswarehouse.com/
Google+