Tag Archives:
what to do with thanksgiving leftovers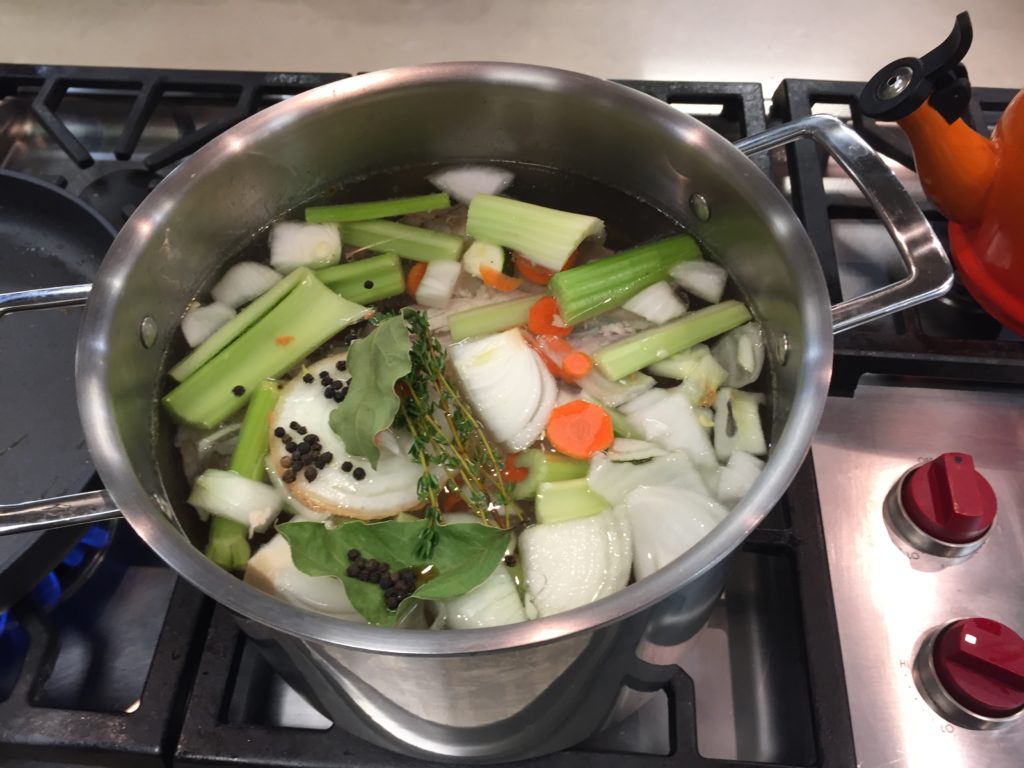 Leftover Turkey Soup with Pasta
2016-11-23 12:56:04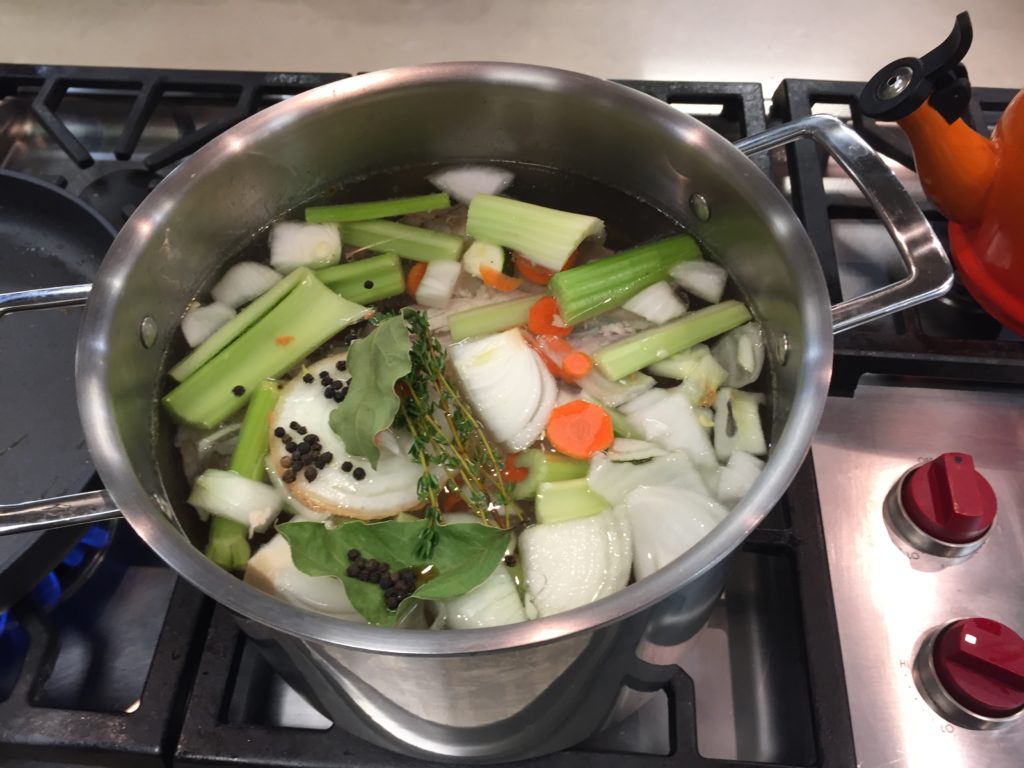 Ingredients
3 Tbsp. olive oil
2 med yellow onions, diced
1 red bell pepper, med dice
6 carrots, cut into half moons
3 zucchini, cut into half moons
1/2# mushrooms, sliced
1 Tbsp. dried thyme
3 cloves garlic, minced
28 oz. can diced tomatoes
12 cups fresh turkey stock made from the bones, (or chicken stock or a combination)
salt and pepper to taste
Worcestershire sauce to taste, approx. 1 Tbsp.
Texas Pete hot sauce to taste
½ - 1# leftover turkey meat, cut into cubes (amount depends on how meaty you want your soup)
1/2# pasta, cooked al dente
fresh basil, chiffonade to taste
Instructions
Heat the olive oil in a stockpot. Sauté the onions over medium heat until they are translucent.
Add the carrots, garlic, thyme, salt and pepper and sauté 3-5 minutes.
Add the zucchini and red pepper and sauté briefly.
Add the remaining ingredients except fresh basil, leftover turkey and cooked pasta. Bring to a simmer and cook 30-45 minutes.
Stir in the turkey and pasta and heat through. Season to taste.
Garnish with the fresh basil when served.
Notes
As shared on FOX5/Good Day Atlanta
Cooks Recipes http://recipe.cookswarehouse.com/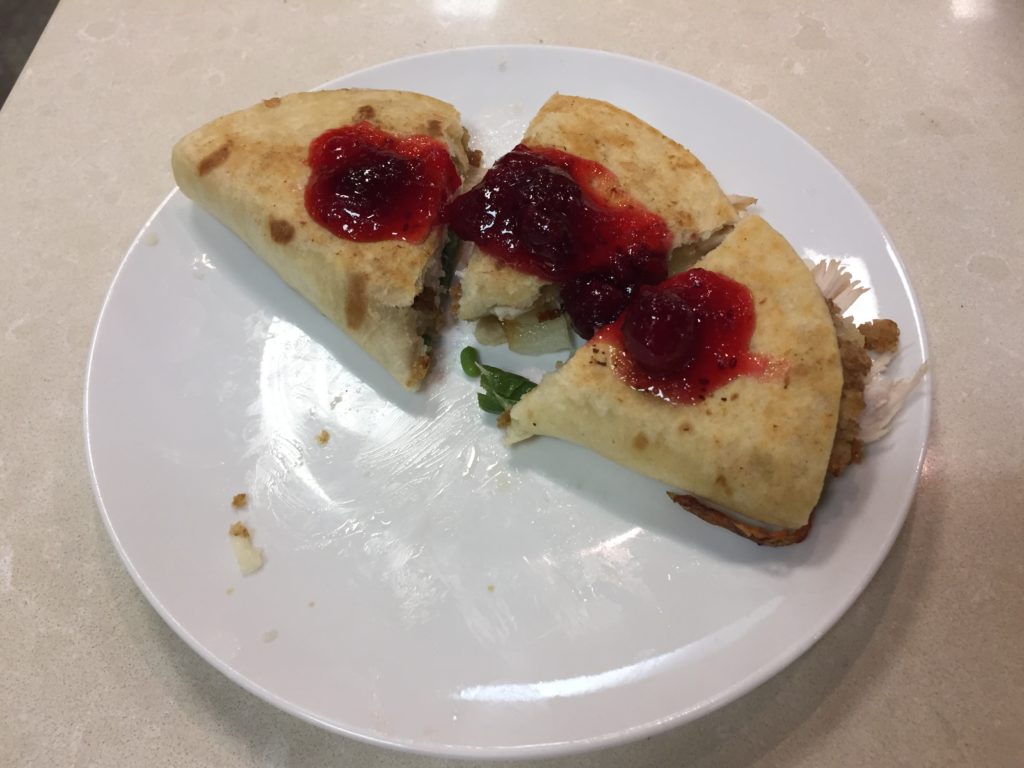 Thanksgiving Leftovers Quesadillas
2016-11-23 12:46:32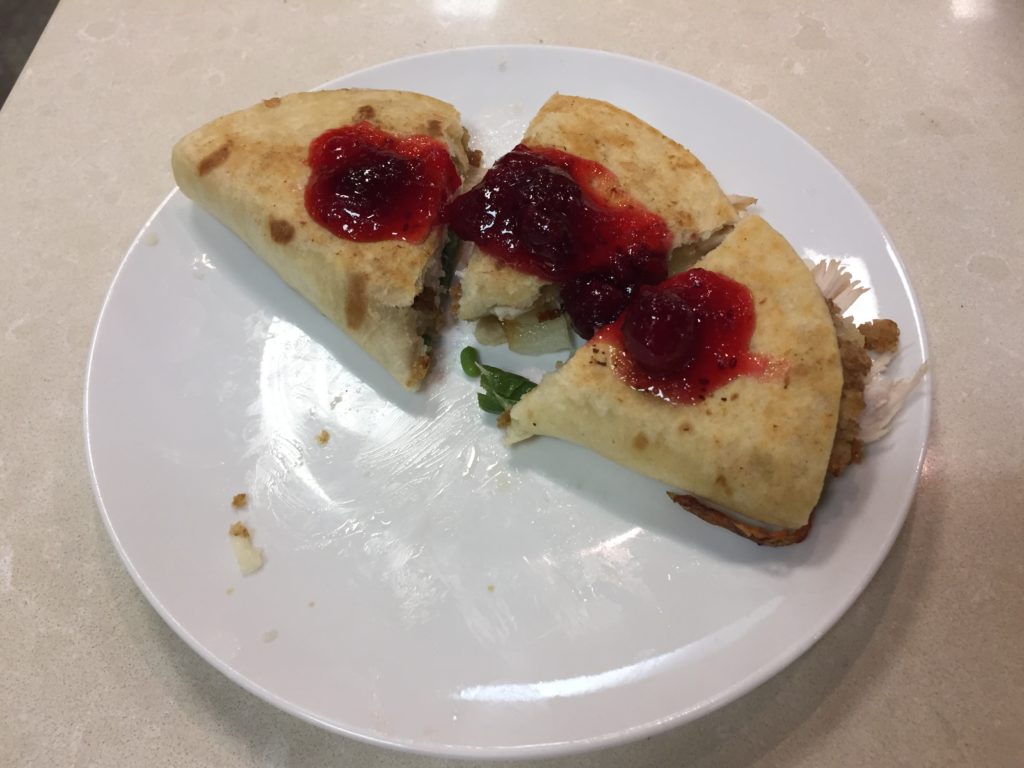 Think about a quesadilla as a sandwich using a tortilla instead of bread. Once you consider it that way, the sky is the limit on what you can make. In order to have a quesadilla all you need is cheese and a tortilla. Utilize all of your Thanksgiving leftover in a non-traditional quesadilla or you can follow the more traditional recipe below.
Non-traditional versions
Turkey, dressing, cranberry sauce, provolone cheese
Turkey, green bean casserole, onions, mozzarella cheese
Turkey, Brussel sprouts, potato gratin, parmesan cheese
Traditional version
1 lb leftover turkey meat, diced
Olive oil
1 green bell pepper
1 red bell pepper
1 onion
10 (10 inch) flour tortillas
1 (8oz) package shredded cheddar cheese
1 (8oz) package shredded Monterey Jack cheese
Unsalted butter
Non-traditional versions
Place on half of a tortilla, fold it over, pan griddle until hot in the middle and the cheese has melted. Cut and serve immediately.
Traditional version
Heat the oil in a large frypan over medium heat. Stir in the green bell peppers, red bell peppers, and onion. Cook and stir until the vegetables have softened, about 10 minutes.
Layer half of each tortilla with the turkey and vegetable mixture, then sprinkle with the cheeses. Fold the tortillas in half and place onto a baking sheet.
Heat enough butter in the same large frypan to coat the bottom. When the butter is bubbly, add two quesadillas and cook on each side until heated through, and cheese is melted.
Notes
As shared on Fox5/Good Day Atlanta
Cooks Recipes http://recipe.cookswarehouse.com/