Tag Archives:
vegetarian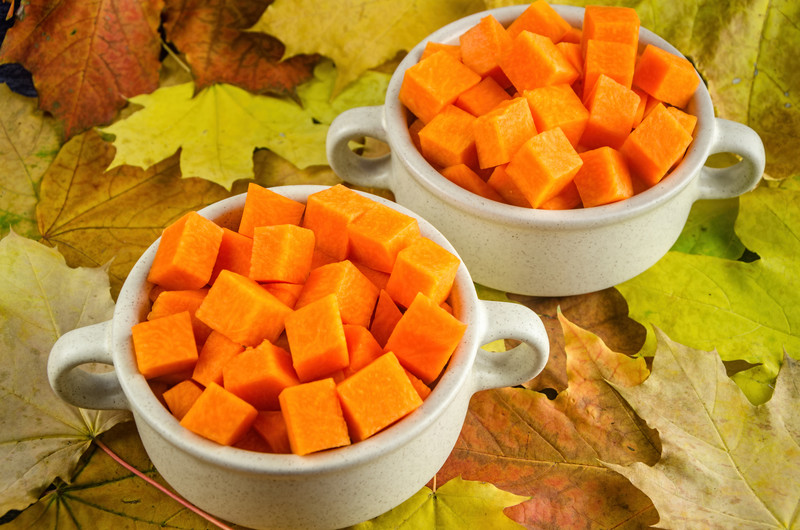 Autumn Stew
2016-10-27 05:20:01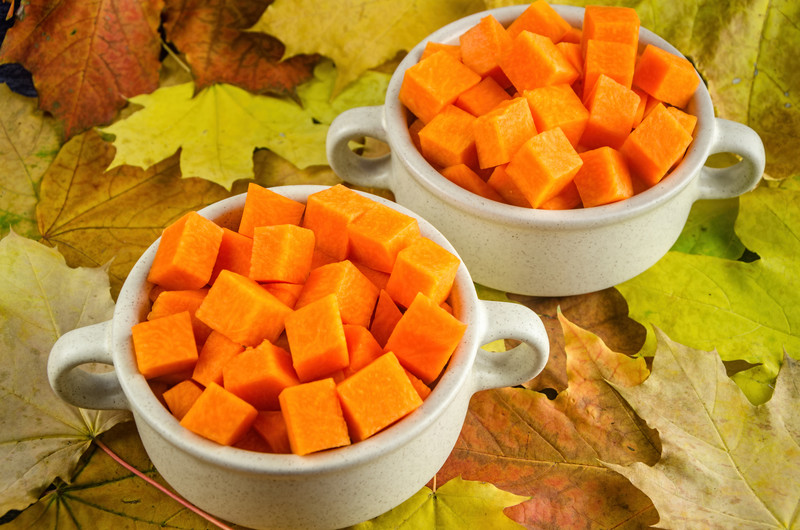 Serves 4
A hearty fall stew, perfect for a chilly night
Ingredients
1 1/2 cups vegetable stock
1 tablespoon low-sodium soy sauce
1 onion, chopped
1 red bell pepper, diced
4 large garlic cloves, minced
1 15-ounce can chopped tomatoes
1 pound (about 4 cups) butternut squash
1/2 teaspoon oregano
1 1/2 teaspoons chili powder
1/2 teaspoon cumin
1/4 teaspoon black pepper
1 15 ounce can kidney beans
1 1/2 cups fresh or frozen corn
Instructions
Heat 1/2 cup vegetable stock and soy sauce in pressure cooker. Add onion, bell pepper and garlic. Cook over medium heat until the onion is translucent and most of the vegetable stock has evaporated.
Cut the squash in half and remove seeds. Peel and cut into 1/2-inch cubes.
Add squash cubes, chopped tomatoes, remaining 1 cup water, oregano, chili powder, cumin and pepper to onion mixture.
Close and lock, bring up to high pressure. Lower heat and cook for 4 minutes at high pressure. Release pressure using cold-water method.
Add kidney beans in their liquid and the corn. Cook without lid on for 5 minutes.
Cooks Recipes http://recipe.cookswarehouse.com/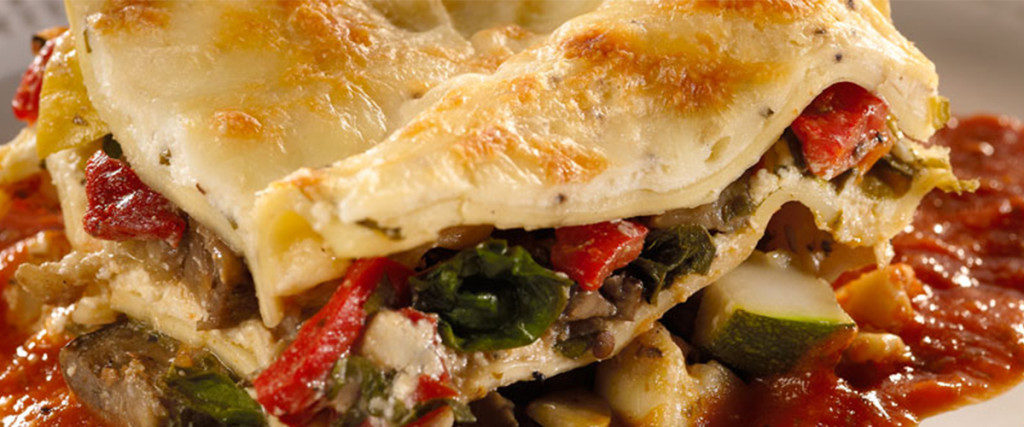 Grilled Vegetable Lasagna
2016-09-14 13:17:45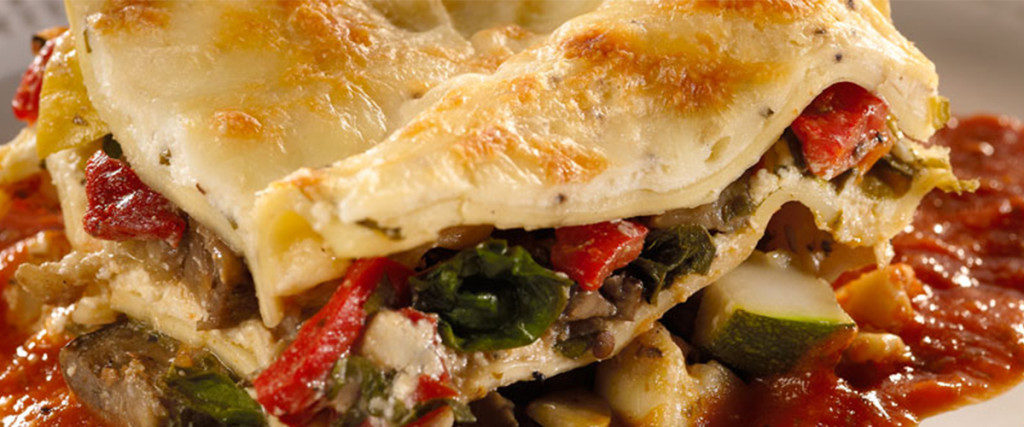 Serves 8
This tasty lasagna is a lighter and healthier way to enjoy Italian cuisine. Layers of lasagna noodles are interspersed with grilled vegetables, cheese, and tomato sauce, then blanketed with Mornay sauce, for this vegetarian version of lasagna. Although lasagna noodles are used in this recipe, wonton skins, prepared according to package instructions, make a perfect and lighter substitute for traditional lasagna noodles. This dish can be made ahead of time and reheated for a quick weeknight dinner.
Ingredients
• 1 tablespoon plus 1⁄4 cup extra-virgin olive oil
• 10 ounces fresh spinach leaves, washed and dried
• 2 zucchini, quartered lengthwise
• 2 yellow crookneck squash, quartered lengthwise
• 2 Japanese eggplants, quartered lengthwise
• 1 ½ cups portobello mushrooms, gills removed (6 ounces)
• 1 ½ teaspoons garlic powder
• Kosher salt and freshly ground black pepper
• 2 roasted red bell peppers, chopped (page 170)
• 2 cups ricotta cheese (1 pound)
• ½ cup goat cheese (2 ounces), at room temperature
• 1 large egg
• ½ cup firmly packed fresh basil leaves, chopped
• 1 tablespoon fresh thyme leaves, chopped
• 5 cups Garden-Fresh Tomato Sauce
• 1 pound lasagna noodles, cooked according to package directions
• 1 cup shredded mozzarella cheese (4 ounces)
Mornay Sauce Ingredients
• 2 tablespoons unsalted butter
• 2 tablespoons all-purpose flour
• 11⁄4 cups whole milk
• 1⁄2 cup grated Parmigiano-Reggiano cheese (2 ounces)
• 1⁄4 teaspoon ground nutmeg
• 1⁄4 teaspoon freshly ground white pepper
Instructions
Set the EGG for direct cooking at 500°F/260°C.
Heat 1 tablespoon of the olive oil in a large sauté pan on the stove top over medium heat. Add the spinach and cook for 2 to 3 minutes, until wilted. Set aside.
Brush the zucchini, squash, eggplant, and mushrooms with the remaining 1⁄4 cup olive oil and season with the garlic powder and salt and pepper. Place the vegetables on the grid. Close the lid of the EGG and grill for 2 minutes per side. Transfer the vegetables to a rimmed sheet pan and let cool slightly.
Using the Grill Gripper and Pit Mitt BBQ Glove or Grilling Mitts, carefully remove the grid and add the ConvEGGtor. Lower the temperature to 350°F/177°C.
Dice the zucchini, squash, eggplant, and mushrooms into 1⁄2-inch cubes and place in a large bowl. Add the bell peppers and spinach and stir to incorporate. Combine the ricotta cheese, goat cheese, egg, basil, and thyme in a small bowl. Season with salt and pepper and mix well. Set aside.
Mornay Sauce Instructions
To make the Mornay sauce, melt the butter in a small saucepan on the stove top. Add the flour and cook on low heat for 3 minutes, or until the roux is bubbly and the flour is no longer raw. Using a whisk, add the milk. Simmer for 5 minutes, or until thick. Remove the pan from the heat and add the cheese, nutmeg, and pepper. Stir well to combine.
Reserve 2 cups of tomato sauce and keep warm in a small saucepan on the stove top over low heat. To assemble the lasagna, spread 1 cup of the tomato sauce over the bottom of the Stone. Add layers, starting with one-third of the noodles, then adding one-half of the grilled vegetables and 1 cup of the tomato sauce. Make 1 more layer and top the layer of tomato sauce with the remaining noodles.
Pour the Mornay sauce evenly over the lasagna ingredients and sprinkle with the mozzarella cheese. Place the baking stone on the cooking grid and close the dome of the EGG. Bake for 45 minutes, or until the cheese is melted and the lasagna is thoroughly heated. Remove the baking dish and allow the lasagna to rest for 10 minutes.
Cut into 3 by 4-inch pieces and serve with the remaining heated tomato sauce.
Notes
Recipe Courtesy of Big Green Egg®
Cooks Recipes http://recipe.cookswarehouse.com/