Tag Archives:
Vegetable Soup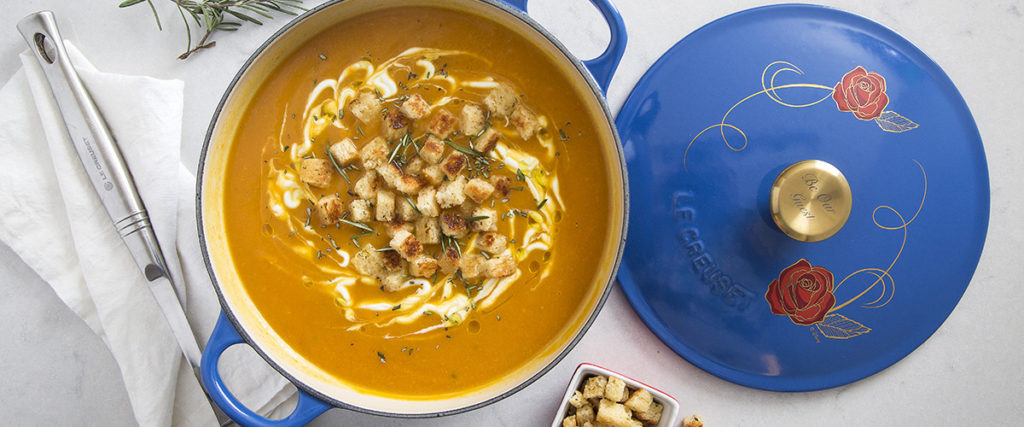 Squash Soup du Jour
2018-01-17 12:18:24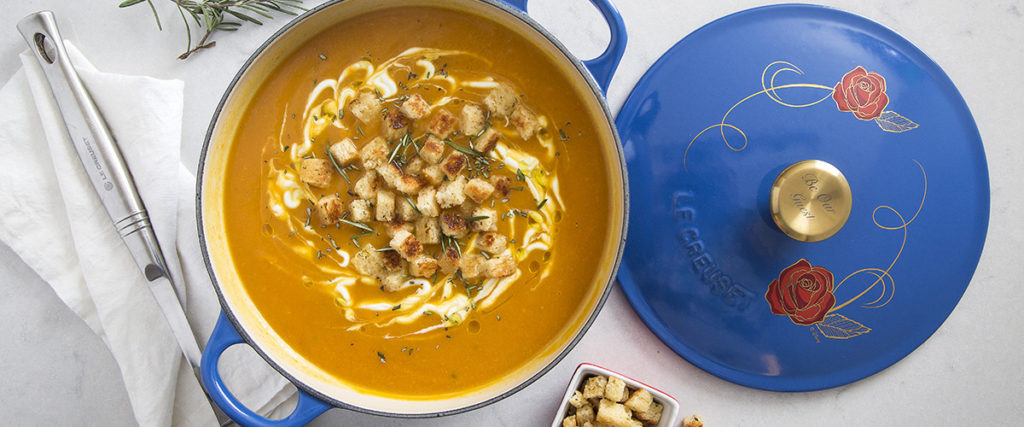 Swap out the chicken stock for vegetable stock and make this soup vegetarian!
Ingredients
4 tablespoons butter, divided
1/2 cup onion, chopped
1 medium carrot, peeled and chopped
1/2 cup peeled and chopped tart apple
1 1/2 teaspoons kosher salt, divided
Freshly ground black pepper
4 cups peeled and chopped butternut squash
1 sprig fresh rosemary
1 bay leaf
1 quart low-sodium chicken broth
4 slices soft white bread, cut into 1/2-inch cubes
2 teaspoons minced fresh rosemary, plus more for garnish
2 tablespoons honey
1/4 teaspoon smoked paprika
1/4 cup yogurt
1 teaspoon lemon zest
Instructions
Heat 1 tablespoon butter in a in Le Creuset Soup Pot set over medium heat. Add onion and carrot. Cook, while stirring, until onion is translucent. Add apple. Season with 1/2 teaspoon salt and a pinch of pepper. Stir to combine. Add squash, rosemary sprig, bay leaf and chicken broth. Bring to a rapid simmer, stir, then cover and reduce heat to low. Cook 15 minutes or until squash is tender.
While the soup is cooking, make croutons by melting remaining butter in a large nonstick skillet over medium heat. The butter should foam, but not brown. Add cubed bread and cook, tossing frequently, until well browned on all sides. Season with minced rosemary and a pinch of salt. Toss a few more times in the pan, then set aside on a paper towel-lined plate until ready to serve.
Remove the soup from the heat and puree with an immersion blender until smooth. Return to the stove over low heat and season with honey, paprika and 1 teaspoon salt. Taste for seasoning and adjust if needed. Whisk together yogurt and lemon zest. Serve the soup drizzled with yogurt and topped with croutons and chopped rosemary.
Notes
© 2018 LE CREUSET. All rights reserved.
Cooks Recipes http://recipe.cookswarehouse.com/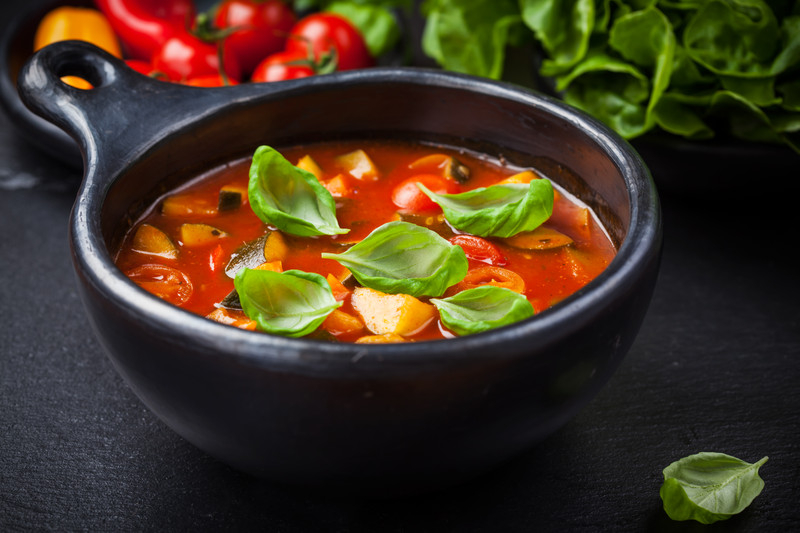 Vegetable Soup with Pasta
2014-10-30 15:09:39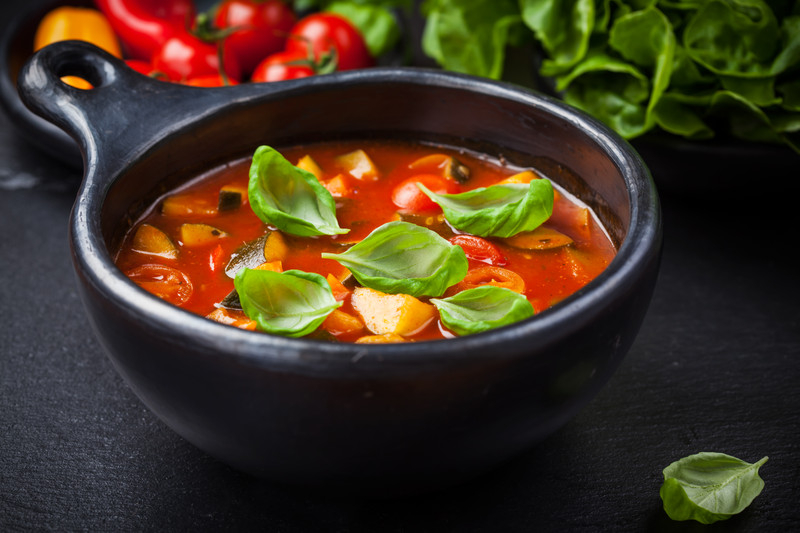 Serves 4
Looking to hone your knife skills? This delicious soup recipe from our owner Mary Moore is perfect on a cool fall afternoon or evening, and provides lots of opportunities to practice your slicing, dicing and chopping.
Ingredients
3 Tbsp. olive oil
2 med yellow onions, diced
1 green bell pepper, med dice
6 carrots, cut into half moons
3 zucchini, cut into half moons
1/2# mushrooms, sliced
1 Tbsp. dried thyme
3 cloves garlic, minced
28 oz. can diced tomatoes
12 cups chicken stock
fresh basil, chiffonade to taste
salt and pepper to taste
Worcestershire sauce to taste, approx. 1 Tbsp.
Texas Pete hot sauce to taste
1/2# pasta, cooked al dente
Instructions
Heat olive oil in stockpot. Sauté onions until translucent.
Add carrots, garlic, thyme, salt and pepper and sauté 3-5 minutes.
Add zucchini and green pepper and sauté briefly.
Add remaining ingredients except fresh basil and cooked pasta. Bring to a simmer and cook 30-45 minutes.
Stir in pasta, basil and season to taste
Cooks Recipes http://recipe.cookswarehouse.com/