Surf and Turf Kebabs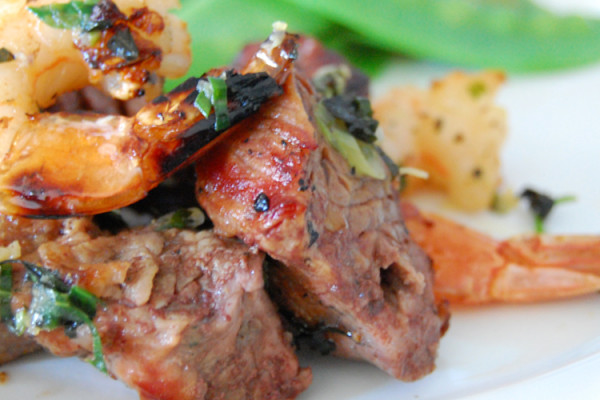 Surf and Turf Kebabs
2017-05-31 12:47:59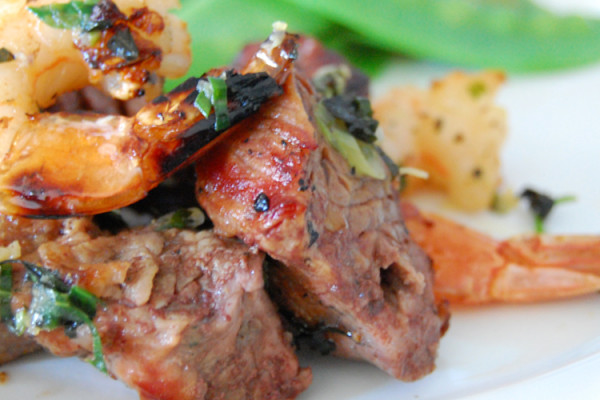 Serves 6
When skewering kebabs, the best approach is to skewer beef and seafood separately because they cook at different rates. The sauce was inspired by a classic bernaise sauce, made with butter and plenty of fresh tarragon, which has a lovely anise flavor.
Ingredients
1 clove garlic, minced
4 teaspoons butter
1 tablespoon olive oil
1 teaspoon lemon zest
¼ cup chopped fresh tarragon
Salt and pepper to taste
1 (16 ounce) Meyer Natural Angus Ribeye Steak
16 ounces peeled and deveined shrimp
Instructions
Mix garlic with butter, olive oil and lemon zest. Place in microwave just long enough to melt butter. Stir in tarragon and salt and pepper. Set aside.
Set EGG for direct cooking at 550°F/288°C.
Cut Ribeye into cubes about ¾-inch square. Thread onto Flexible Skewer. Thread shrimp onto additional Flexible Skewer. Place beef skewers on grill first. Place shrimp onto grill about 4 minutes after beef. Cook to desired degree of doneness.
Remove skewers and brush liberally with butter sauce. To serve, divide beef and shrimp evenly among plates and pass with any extra sauce.
Makes 6 servings.
Notes
Recipe and photo courtesy of Meyer Natural Angus and Big Green Egg®. For more information, visit MeyerNaturalAngus.com.
Adapted from Big Green Egg®
Adapted from Big Green Egg®
Cooks Recipes http://recipe.cookswarehouse.com/
Google+