Snapper with Roasted Citrus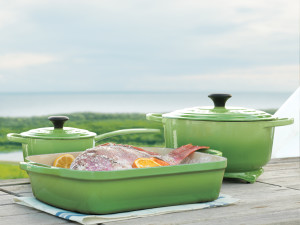 Salt-Crusted Snapper with Roasted Citrus
2014-05-01 09:45:39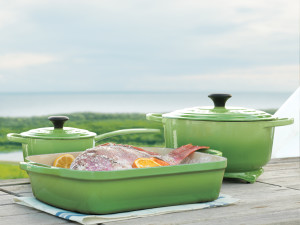 Serves 4
As the days become longer and the temperatures continue to climb, thoughts turn to lighter fare. Escape to the coast with this salt-crusted fish that fits the bill. It's a breeze to prepare. And when it's cooked and served in Le Creuset's new signature color Palm, it's like a mini-vacation at dinnertime!
Ingredients
2 lbs kosher salt
3/4 cup to 1 cup water
1 large ruby red grapefruit, thinly sliced
1 large lemon, thinly sliced
1 large orange, thinly sliced
1 large lime, thinly sliced
1 (4-lb) whole red snapper, cleaned and descaled
Instructions
Preheat oven to 400* F
In a large bowl, combine salt and water, stirring until it is a paste-like consistency
Pour a 1-inch-thick layer of the salt mixture into a roaster. Layer half of the citrus slices on top of the salt. Place the fish on top of the citrus. Press the remaining salt on top of the fish to form a thick crust. Top with remaining citrus slices.
Bake 35 to 40 minutes, or until fish is done (internal temperature of 135*F) and salt is lightly browned.
To serve, crack the salt crust with the handle of a knife or kitchen mallet and fully scrape off the fish. Transfer to a serving platter; flake fish away from center spine with a serving fork, and top servings with roasted citrus slices.
Cooks Recipes http://recipe.cookswarehouse.com/
Google+