Buttermilk Waffles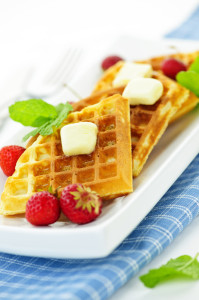 Buttermilk Waffles
2014-05-08 08:48:21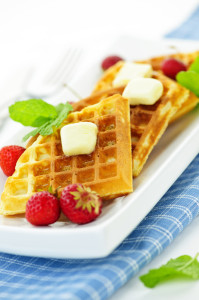 This Mother's Day, treat mom to something special to start her day! We recommend breakfast in bed, featuring this buttermilk waffle recipe from cookbook author Cynthia Graubart. Pamper Mom on Mother's Day (or any day!) with waffles, fresh cut flowers, coffee and personal note. What a wonderful way to show Mom your appreciation for all that she does! Learn other great recipes from Cynthia in any of her upcoming classes. Her Wine Makes the Meal class this coming Friday with certified wine specialist Don Hackett will be a special one! The class features select wine pairings served alongside recipes from her James Beard award-winning cookbook Mastering the Art of Southern Cooking, co-authored with Nathalie Dupree. A few seats remain, register here.
Ingredients
1 3⁄4 cups all-purpose flour
1 teaspoon baking powder
1 teaspoon baking soda
1⁄ 2 teaspoon salt
2 cups buttermilk
1⁄ 3 cup melted butter or oil, cook's preference
2 eggs, beaten to mix
Instructions
Preheat waffle iron.
Whisk together flour, baking powder, soda, and salt in a bowl. In another bowl, mix buttermilk, melted butter, and eggs. Whisk together both mixtures and beat until smooth.
When the waffle iron is hot enough for a bit of oil to sizzle, ladle or pour the batter directly into the center of the lower half until it spreads to within an inch from the edges. Close and cook according to manufacturer's directions. Do not lift cover during baking. Steam will escape from the sides of the waffle iron, so take care not to get burned. When the steam subsides, the waffle is nearly ready.
When the waffle is done, lift the cover. Loosen waffle with a fork and remove.
Meanwhile, close the waffle iron to reheat quickly. When ready, pour in the batter for the next waffle. Thin the batter as needed with more buttermilk.
Notes
Waffle batters, like pancake batters, are best made half an hour or more before cooking.
Variations
• Self-rising flour may be substituted in equal measure for the flour, omitting baking powder, baking soda, and salt.
• For "sweet" milk waffles, use 1 tablespoon baking powder and substitute milk for the buttermilk.
Adapted from Copyright 2012 "Mastering the Art of Southern Cooking" by Nathalie Dupree and Cynthia Graubart
Adapted from Copyright 2012 "Mastering the Art of Southern Cooking" by Nathalie Dupree and Cynthia Graubart
Cooks Recipes http://recipe.cookswarehouse.com/
Google+