Smoked Onion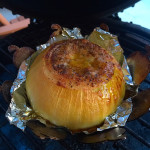 Smoked Onion
2015-05-29 10:48:27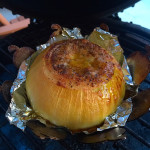 Can you tell we love cooking outdoors this time of year? Here's another easy but impressive grilling recipe from our friends at MeatChurch. Based in Texas, MeatChurch makes a very popular line of BBQ rubs and seasonings. We proudly carry their Holy Cow Rub, Honey Hog Rub, Honey Hog Hot Rub and Honey Pecan Rub. Looking for a unique grilled side that is different from the traditional stuff you have been cooking? This sweet onion goes GREAT with steaks, hamburgers or just about anything you are grilling in the back yard. It can be smoked or grilled.
Ingredients
1 large sweet onion (MeatChurch recommends a Texas 1015, we're a bit partial to Vidalia Onions, grown here in Georgia!)
2 tbsp butter sliced into small strips
Meat Church Season All (Substitute any other Meat Church rub to your liking)
Chipotle, Garlic or Cilantro bouillon (your preference)
Instructions
Prepare your smoker at a temperature of 275 degrees (indirect setup on a Big Green Egg). This can be grilled directly as well but keep the onion away from the fire.
Onion prep
Peal the outer skin off of the onion.Cut a core out of the middle. Leave a 1/2" at the bottom of the onion. Do not core all the way through the onion.
Place the bouillon and butter down in the core. Cover liberally with our Season All or other Meat Church BBQ Rub.
Cooks Recipes http://recipe.cookswarehouse.com/
Google+