Salmon with Lemon and Dill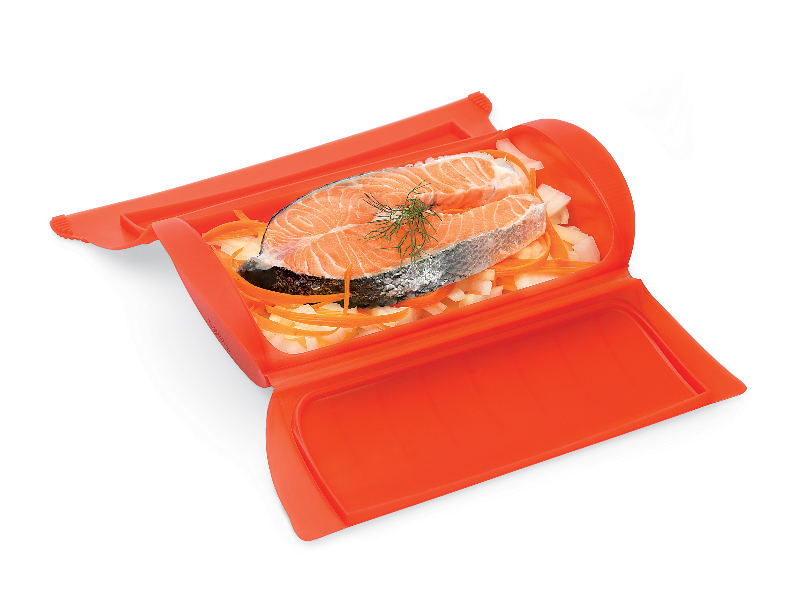 Salmon with Lemon and Dill
2014-07-25 10:51:27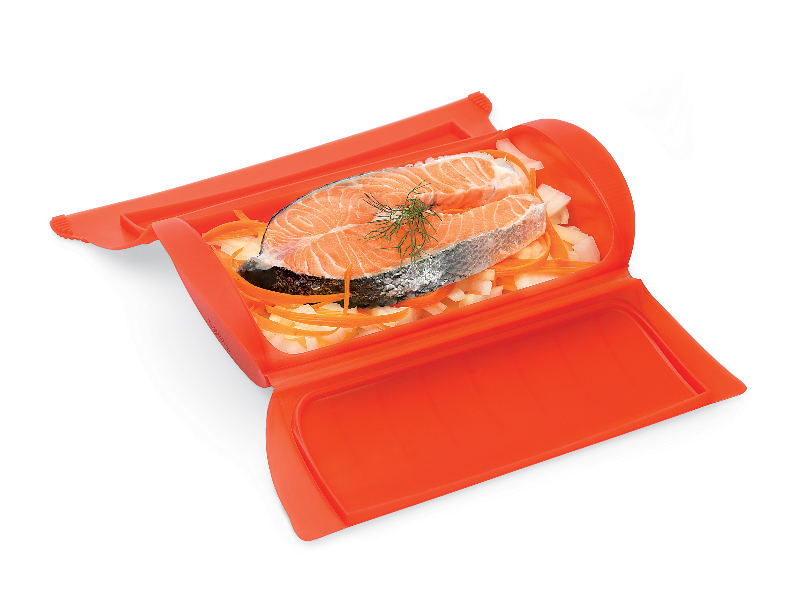 Serves 1
It's salmon season! Enjoy fresh, wild-caught salmon while it's at it's peak. And there's no need to slave over a hot stove or even fire up the grill, steam your fish in the microwave in a Lekue Steam Case. Made of High-grade Platinum Silicone, this steam case helps you prepare healthful meals that are easy and delicious. Platinum silicone is a type of silicone that is completely odorless, anti-bacterial, and resistant to high and low temperatures. It's approved for use in hospitals, surgical materials, medical implants, and baby bottle nipples. It's also non-stick, so minimal oils and fats are needed. Whether you use the oven or microwave, the Lekue steam case cooks foods in their own juice or steam, enhancing their original and genuine aromas and preserving all nutrients.
Ingredients
1 6oz. fillet of salmon
3 tbsp fresh dill, roughly chopped
fresh lemon juice
salt and pepper
2 tbsp water
1 tbsp extra virgin olive oil
Instructions
Pour the water into the bottom of the small Lekue Steam Case. Place the tray into the steam case and put the salmon filet inside on the tray. Drizzle the extra virgin olive oil on top of the salmon. Add a pinch of salt and pepper.
Top the salmon with the freshly chopped dill, and lemon juice. Close the steam case and cook in the microwave for 2 minutes at 800watts. Once finished, leave the case closed for another minute to continue the cooking process.
Remove from the microwave and enjoy.
Looking for other great ways to cook salmon? We have several seafood classes coming up that feature salmon
A few seats are still available for tonight's Alaskan Seafood Hands On at Midtown with Chef Gloria Smiley
Chef Stephanie Smithmyer leads the upcoming cooking class Salmon Five Ways Hands On, on July 29 at our East Cobb store
Chef Adeline Borra shows you New Ways to Love Salmon Hands On in Brookhaven on August 20
Cooks Recipes http://recipe.cookswarehouse.com/
Google+