Sautéed Lemony Salmon with Brussels Sprouts, Onions and Apples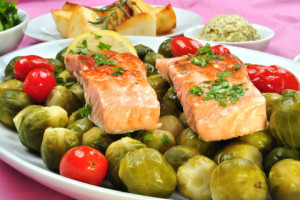 Sautéed Lemony Salmon with Brussels Sprouts, Onions and Apples
2013-11-06 09:27:58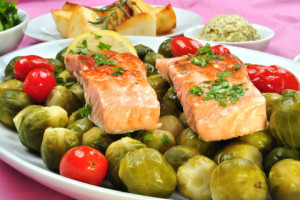 Serves 4
Ingredients
Salmon - 4 pieces fresh, wild caught salmon, approx. 4-6 oz each, skin on
1 cup panko bread crumbs
Zest of 1 large lemon
2 tsp Olive oil
Salt and freshly ground black pepper to taste
Brussels Sprouts - 1 small sweet onion, sliced or chopped thinly
1 ½ lbs brussel sprouts, trimmed and quartered or shredded
4 - 6 garlic cloves, pressed
2 apples, peeled, cored and sliced thinly
1 Tbsp Olive oil
2 Tbsp cider vinegar
Salt
Freshly ground pepper
Instructions
Salmon - Preheat oven to 400*F.
Add panko, zest, 2 tsp olive oil, salt and pepper to a medium bowl and toss to combine.
Line a jelly roll pan with parchment paper or a silpat and place the salmon on it skin side down. Top the salmon with the panko mixture.
Cook on 400* for approx. 10 mins for every inch thickness of fish.
Brussels Sprouts - Heat olive oil in a 3 quart sauté pan over medium heat. Add the onions, garlic and Brussels sprouts, season with salt and pepper, and cook until just tender, approx. 8 mins.
Add the sliced apples and cook about 2 minutes. Add the cider vinegar and cook until the apples are tender, approx. 2 minutes more. Season to taste before serving.
Cooks Recipes http://recipe.cookswarehouse.com/
Google+