Beet Salad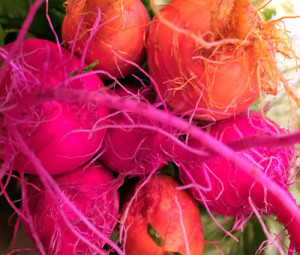 Little Beet Salad
2014-02-20 08:14:26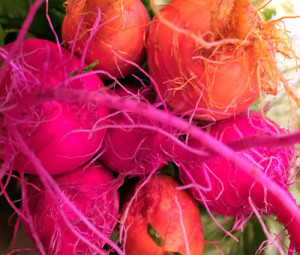 Serves 4
Ingredients
3/4 pound small beets (about the size of a golf ball)
1 cup beet greens
2 tablespoons red wine vinegar
1 teaspoon coarse-grained mustard
1/8 teaspoon ground ginger
1 tablespoon freshly squeezed lemon juice
1/4 teaspoon salt
3 tablespoons olive oil
3 cups mixed lettuce leaves
Instructions
Remove the tops from the beets and peel the beets. Cut each beet into 4 wedges. Steam in a steamer basket for 18 minutes, or until fork-tender.
Meanwhile, choose 1 cup of the smallest of the beet greens, stack the leaves, and slice into ribbons. Set aside.
Whisk together the red wine vinegar, mustard, ginger, lemon juice, and salt. While whisking, slowly pour the olive oil into the vinegar mixture.
Combine the lettuce and sliced beet greens and arrange on a small platter. Toss the warm steamed beets with about half the dressing in a small mixing bowl. Pour the beets over the lettuce. Serve the remaining dressing on the side.
Cooks Recipes http://recipe.cookswarehouse.com/
Google+