Berry-Granola Breakfast Pops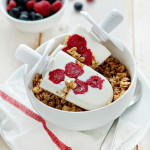 Berry-Granola Breakfast Pops
2015-08-07 11:18:36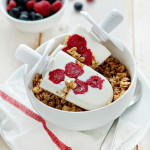 Popsicles for Breakfast? Of course! Breakfast is the most important meal of the day and now Quick Pops make it fun. Smile and face the day with a breakfast that's as cool as your brand new clothes and school supplies!
Ingredients
6 ounces Vanilla Greek Yogurt
1/3 cup (2 ½ oz) 2% milk
fresh raspberries (2-3 per Quick Pop)
4 ½ teaspoons granola
MAKE THE BASE
In a medium bowl, whisk together Greek yogurt and milk until well combined. Mixture will thin out and become a pourable consistency.
ASSEMBLE THE POPS
Slice each raspberry in half lengthwise. Using the Zoku Fruit Wand,** (or chopsticks) apply the sliced side of the raspberries to the walls of the Zoku Quick Pop Maker molds. Insert sticks and pour about 1 ounce of the yogurt mixture into each of the molds, allow the mixture to freeze. Add granola on each side of the sticks (about 1 ½ teaspoons per pop), pushing down with a chopstick if necessary. Pour yogurt base to the fill line. Let freeze completely, then remove the pops with the Super Tool and enjoy. Recipe doubles well to create 6 Quick Pops.
Notes
**Zoku Fruit Wand is part of the Zoku Tool Kit and is sold separately.
Recipe courtesy of ZOKU
Cooks Recipes http://recipe.cookswarehouse.com/
Google+