Crème Brûlée with Coffee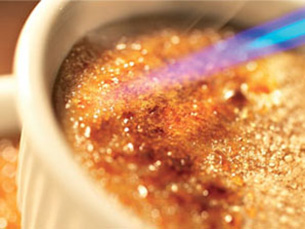 Crème Brûlée with Coffee
2016-02-11 09:46:23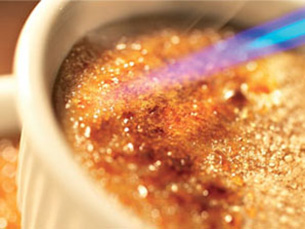 Serves 4
Ingredients
100 ml coffee
150 g single cream
150 ml milk
50 g sugar
2 eggs
2 egg yolks
1 tbs butter
4 tbs brown sugar
2 tbs espresso powder
Instructions
Combine the cream, milk, coffee and sugar in a saucepan, and bring to the boil. Remove immediately from the heat and leave to cool slightly.
Beat the eggs and egg yolks and blend with the cream/coffee mixture.
Pre-heat the oven to 180°C (Gas 2-3, convection oven 160°C). Pour the mixture into four buttered 125 ml fireproof dishes. Stand dishes in a bain-marie / water bath, and bake for 30 – 35 minutes.
Remove from oven, leave to cool, then refrigerate for 2 hours.
Scatter 1 tablespoon of brown sugar over each dish, and caramelize, either for 1-2 minutes under the grill, or with a special blowtorch.
Sprinkle the espresso powder over the hot sugar, and serve immediately in the dish.
Cooks Recipes http://recipe.cookswarehouse.com/
When making the creme brulee with coffee we recommend one of our
jura coffee makers
.
Google+