Chicken Chorizo Paella with Shrimp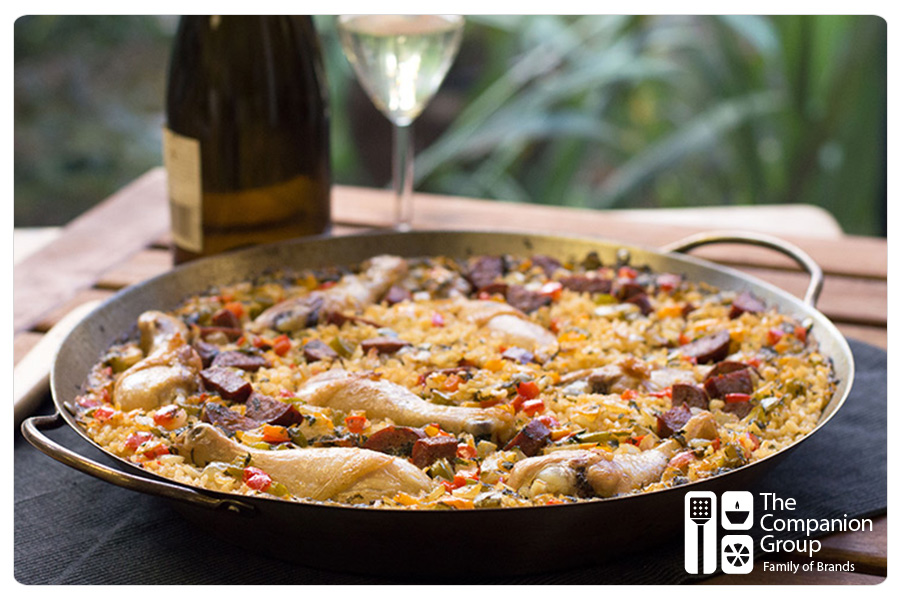 Chicken Chorizo Paella with Shrimp
2017-05-16 10:20:55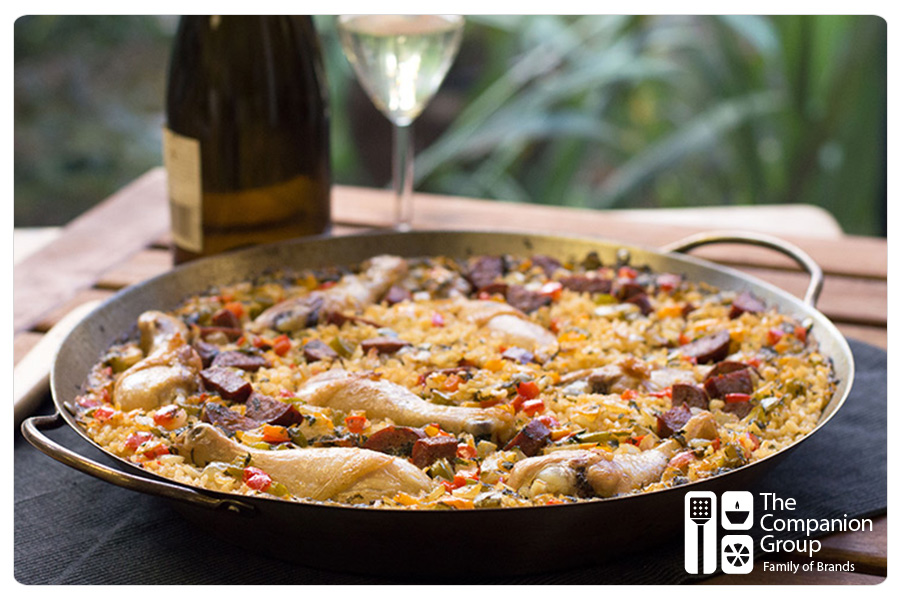 Traditionally paella was cooked over a blazing wood fire, which makes it a perfect dish to cook on the grill.
Ingredients
½ C. extra virgin olive oil
2 lbs. chicken drumsticks
¾ lbs. Spanish chorizo, sliced
2 small bell peppers, small dice
1 small yellow onion, small dice
4 cloves garlic, minced
¾ C. parsley, chopped
½ can fire roasted tomatoes (8 oz.)
2 Tbsp. kosher salt
2 C. rice
2 C. water
3 C. chicken stock
2 tsp. smoked paprika
Pinch of saffron
1/2 lb. large prawns (Optional)**
Instructions
Add olive oil and preheat paella pan over high heat 2-3 minutes.
Place drumsticks into hot oil and sear thoroughly on all sides approximately 8-10 minutes. Remove chicken from pan and set aside.
Add onion, bell peppers, and sauté until vegetables are soft.
Add parsley and garlic and sauté another 1-2 minutes until fragrant.
Add water, chicken stock, paprika, roasted tomatoes, saffron and rice then stir thoroughly to combine.
Bring mixture back to a rapid simmer, add chicken and reduce to a gentle simmer over one burner on low flame.
Cook uncovered 25-35 minutes (adding shrimp to the pan halfway through) until rice absorbs liquid and chicken is cooked.
Finish with high flame for 60-90 seconds to crisp the rice on the bottom of the pan.
Rest paella 2-3 minutes before serving.
Notes
Serves a crowd!
Cooks Recipes http://recipe.cookswarehouse.com/
Google+