Charcuterie Plate with Condiments
A salt block can beautifully present charcuterie, just as it does cheese. You will need to be more mindful of how you display the meats since many already have salt in their cures. We like to use small squares of butcher paper or even slate cocktail coasters for a stunning contrast of colors for the charcuterie display. Try serving fresh bread and good crackers with each of these plate, and cheese is always a good accompaniment. Follow the same tips as given for the Cheese Plate with Condiments to turn your salt block into a functional display. These tips include:
Chill the salt block in the refrigerator for several hours or overnight.
If slicing, overlap or fan the slices so that only a small part of each slice is in contact with the salt block.
Place liquid condiments and mustard in small, clear glass bowls. Mound thicker condiments, like chutney or jam, directly on the salt block.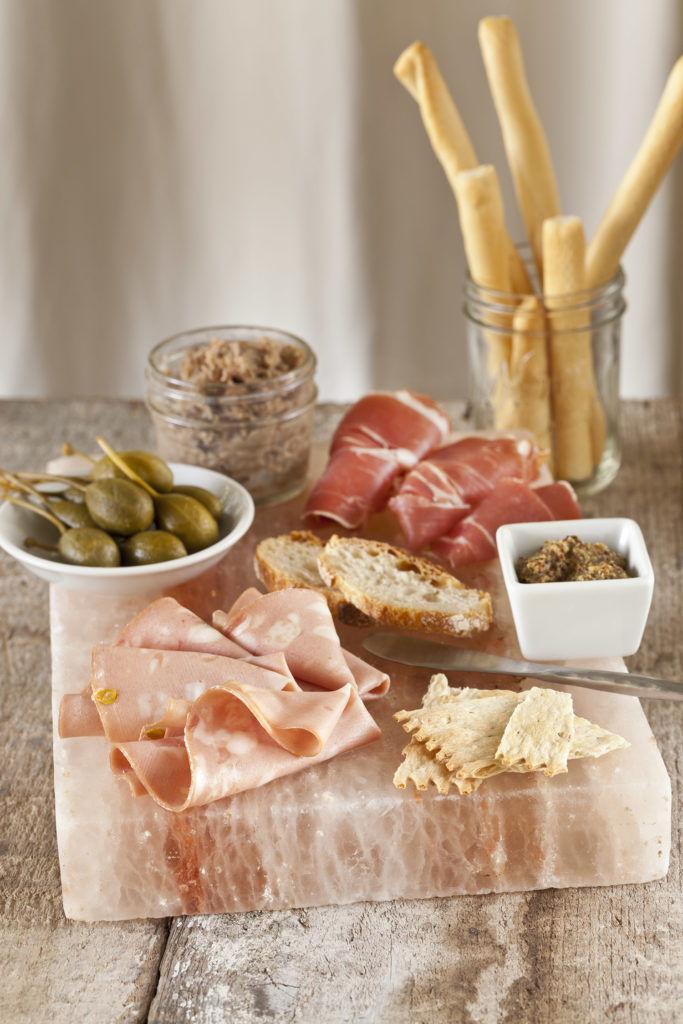 Try These Combinations
Basic Trio:
Prosciutto, country pâté, chicken liver mousse
Condiment ideas: sliced apples and figs
Spanish Ham Duo:
Iberico and Serrano hams
Condiment ideas: Marcona almonds and melon
Italian Charcuterie Plate:
Bresaola, Genoa salami, capicola
Condiment ideas: giardiniera and marinated piquanté peppers
Three Little Pigs:
Speck, mortadella, pork rillette
Condiment ideas: caperberry and grainy mustard
Hot, Hot, Hot:
Soppressata, spicy chorizo, spicy salami
Condiment ideas: cornichon and olives
Excerpted from The Simple Art of Salt Block Cooking by Jessica Harlan and Kelley Sparwasser, published by Ulysses Press.
Google+