Asparagus Soup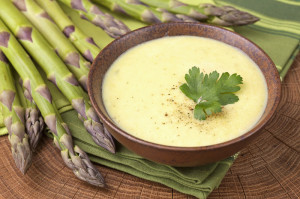 Asparagus Soup
2013-10-29 11:14:05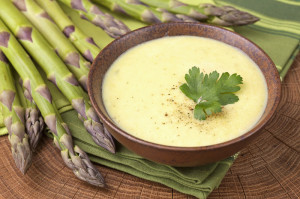 Serves 8
Ingredients
1 cup sliced yellow onions
3 Tbsp butter
2 lbs. Fresh green asparagus, washed and butts trimmed
2 qt. lightly salted boiling water
salt
2 Tbsp flour
freshly ground white pepper
½ cup heavy cream, cream fraiche or sour cream
Instructions
Cook the onions and butter slowly in a saucepan until tender and translucent.
Cut 2 ½ to 3" from the tips of the asparagus; drop them into the boiling water and boil for 3 minutes or until barely tender.
Shock the asparagus in ice water and reserve the boiling liquid. Drain and reserve the tips.
Chop the remaining stalks into ½" lengths and add to the onions with a sprinkle of salt. Cover and cook slowly 5 minutes.
Stir in the flour and cook, stirring, 3 minutes more.
Remove from heat and when the bubbling stops, blend in the hot asparagus cooking water. Simmer uncovered 25 to 30 minutes, or until tender enough to puree.
Cut just the tips off of the remaining asparagus pieces and cut the tips in half. Add the lower parts of the tips to the soup and puree. Strain through a sieve to remove the fibers. Taste to correct the seasoning.
Notes
To serve hot: Just before serving, reheat to a simmer and stir in the cream. Taste and correct seasoning. Garnish with tips.
To serve cold: Chill uncovered. Stir in chilled cream or top with a dollop of cream fraiche or sour cream and asparagus tips.
Adapted from The Way to Cook
Adapted from The Way to Cook
Cooks Recipes http://recipe.cookswarehouse.com/
Google+