Warm Oat Berries with Walnut and Gorgonzola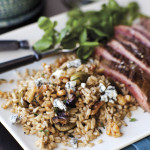 Warm Oat Berries with Walnut and Gorgonzola
2015-10-09 11:43:54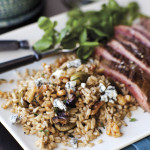 Serves 4
Looking for a side dish this fall that's both hearty and healthy? Ancient Grains expert Maria Speck has shared this delicious recipe from her first cookbook, Ancient Grains for Modern Meals. She returns to The Cook's Warehouse on October 14 for a cooking class that features recipes from her new title Simply Ancient Grains: Fresh and Flavorful Whole Grain Recipes for Living Well - see details and register here. Your registration includes a copy of Simply Ancient Grains ($27.50 value). Serve this inviting dish with grilled or pan-fried steak or tuna, or offer it with simple sauteed greens such as spinach or chard.
Oats
11/4 cups water
1 cup whole oat berries (oat groats)
1/8 teaspoon fine sea salt
To Finish
1 tablespoon extra-virgin olive oil
1/2 cup coarsely chopped walnuts
3 teaspoons chopped fresh thyme
1/2 cup coarsely chopped pitted green olives
1/4 teaspoon fine sea salt
1/4 teaspoon freshly ground black pepper
2 teaspoons red wine vinegar
3/4 cup crumbled Gorgonzola or other mild blue cheese (3 ounces)
Instructions
To prepare the oats, bring the water, oat berries, and salt to a boil in a small saucepan. Decrease the heat to maintain a simmer, cover, and cook until the oats are tender but still slightly chewy, 30 to 40 minutes. Remove from the heat, cover, and set aside to steam for 10 to 15 minutes if you have time. Drain any remaining liquid.
To finish, heat the olive oil in a 10-inch skillet over medium heat until shimmering. Add the walnuts and 2 teaspoons of the thyme and toast, stirring frequently, until fragrant, about 3 minutes. Decrease the temperature if the walnuts darken too fast. Add the oats, olives, salt, and pepper. Cook, stirring, until heated through, about 2 minutes. Taste and adjust for salt and pepper (keeping in mind that olives can be salty). Sprinkle with the vinegar and remove from the heat. Briskly stir in 1/2 cup of the cheese until it just starts to melt. Top with the remaining 1/4 cup cheese, sprinkle with the remaining 1 teaspoon thyme, and serve right away.
Notes
To get a head start: Make the oats, as in step 1, ahead (see page 23).
to vary it: Use 21/2 cups cooked Kamut or soft wheat berries if you can't find whole oat berries (for cooking instructions, see page 25).
Reprinted with permission from Ancient Grains for Modern Meals by Maria Speck, copyright © 2011. Published by Ten Speed Press, a division of Random House, Inc.
Photo credit: Sara Remington © 2011
Adapted from Ancient Grains for Modern Meals
Adapted from Ancient Grains for Modern Meals
Cooks Recipes http://recipe.cookswarehouse.com/
Google+