Chicken Milanese with Chimichurri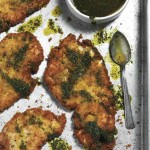 Chicken Milanese with Chimichurri
2015-10-01 11:18:48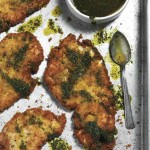 Serves 4
Milanesa is a style of breading and cooking meat that is sometimes called the unofficial dish of Argentina. Often made with steak, Milanesa can also be made with chicken by pounding breast meat, frying it in a skillet, and topping it with a spicy tomato or chimichurri sauce. This recipe is great for beginner fryers - it's quick enough to serve on a weekday night but impressive enough for weekend company.
Chimichurri
4 cloves garlic
1.5 cups fresh flat-leaf parsley
¼ cup red wine vinegar
1 tablespoon fresh oregano leaves
¼ teaspoon red pepper flakes
1 teaspoon smoked paprika
½ teaspoon salt
½ teaspoon freshly ground black pepper
2/3 cup pure olive oil
Milanese
2 boneless, skinless chicken breasts
½ teaspoon salt
¼ teaspoon freshly ground pepper
3 eggs
2 cloves minced garlic
2 tablespoons chopped fresh flat-leaf parsley
2 teaspoons water
1.5 cups unseasoned dry bread crumbs
Pure olive oil, for frying
Chimichurri
To make the sauce, pulse garlic in a food processor until minced
Add the parsley, vinegar, oregano, red pepper flakes, paprika, salt and pepper
Process until finely chopped
With processor running, add olive oil until completely combined
Transfer sauce to an air tight container and refrigerate until ready to use
Chicken
Place each chicken breast and gently pound until evenly ¼ inch thick
Cut each breast in half to make 4 cutlets. Sprinkle each with salt and pepper
In a shallow disk, whisk together eggs, garlic, parsley and water
Place bread crumbs in another shallow dish
In a large skillet, heat pure olive oil over medium heat to 315 degrees
Set a wire rack over rimmed baking sheet
Dip the cutlets in egg mixture, then press them into bread crumbs to coat evenly on both sides
Carefully place them in the hot oil. Fry for 4-5 minutes on each side
Drain the chicken on the wire rack and repeat with remaining chicken
Serve with the sauce.
Notes
Reprinted with permission from Fried Chicken, by Rebecca Lang, copyright © 2015, published by Ten Speed Press, an imprint of Penguin Random House LLC.
Photographs copyright © 2015 by John Lee
Adapted from Fried Chicken
Adapted from Fried Chicken
Cooks Recipes http://recipe.cookswarehouse.com/
Google+