Truffled Wild Mushroom Sauce with Prosciutto, Spinach, Pecans and Sage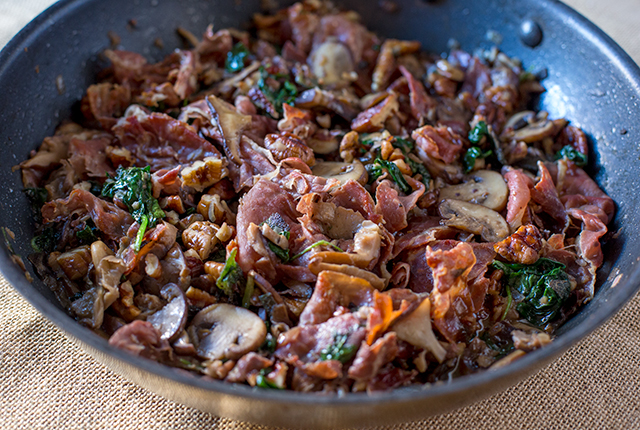 Truffled Wild Mushroom Sauce with Prosciutto, Spinach, Pecans and Sage
2018-01-10 14:04:43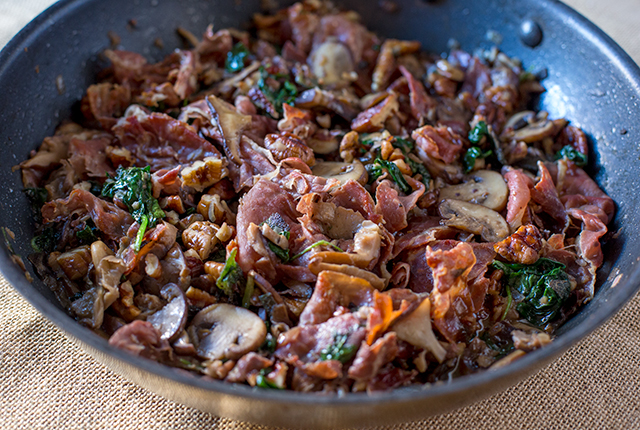 Serves 6
This gourmet pasta sauce is great over a hearty pasta like this
buckwheat pasta
.
Ingredients
3 tablespoons extra-virgin olive oil, divided
3 tablespoons chilled butter, divided
6 thin slices aged Prosciutto de Parma, torn into large pieces
1 cup pecans, coarsely chopped
12 whole fresh sage leaves
2 pounds assorted fresh wild mushrooms (Portabella, Porcini, Oyster, Beech, Cremini, and Shiitake), sliced
2 cloves fresh garlic, minced
2 large shallots, minced
1 cup fresh baby spinach leaves
2 cups low-sodium chicken broth
1 teaspoon black truffle oil
Sea salt and garlic pepper, to taste
3/4 cup freshly grated Parmesan cheese
Instructions
Heat a tablespoon of olive oil in your KitchenAid® Skillet over medium-high heat, and cook the prosciutto in batches for a few minutes until crispy and browned. Drain on paper towels and set aside.
Add the pecans to the Skillet and toast for a few minutes until lightly browned with a nutty aroma (being careful not to burn them); remove nuts from Skillet and set aside.
Add a tablespoon of butter to the Skillet and sauté the sage leaves until crisp, about 1 minute per side. Transfer to paper towels.
Heat remaining 2 tablespoons of olive oil and 2 tablespoons of butter in the same Skillet over medium-high heat. Add the mushrooms, shallots, garlic and sauté until mushrooms are brown and liquid evaporated, about 10 minutes. Add the spinach and sauté for another 2 minutes until wilted and transfer mixture to a mixing bowl.
Pour in the chicken stock to the Skillet and bring the liquid to a boil. Scrape up the browned bits and cook until liquid is reduced by half, about 7 minutes. Remove from the heat and add truffle oil, mushroom mixture, cooked prosciutto, pecans and sage. Mix together well, season with sea salt and garlic pepper to taste.
Serve the cooked Bucatini pasta tossed with the sauce and garnish with shaved parmigiano-reggiano cheese.
Sauce can be made up to 2 hours ahead; let stand at room temperature.
Notes
©2016 KitchenAid. All rights reserved. Adapted from Kristen Hess of The Artful Gourmet
Adapted from Kristen Hess of The Artful Gourmet
Adapted from Kristen Hess of The Artful Gourmet
Cooks Recipes http://recipe.cookswarehouse.com/
Google+