Buckwheat Pasta Dough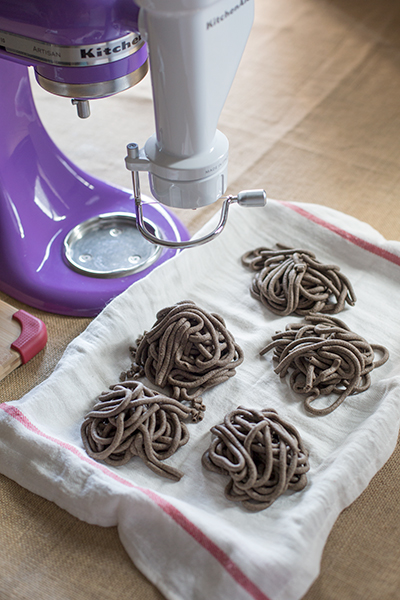 Buckwheat Pasta Dough
2018-01-10 13:55:01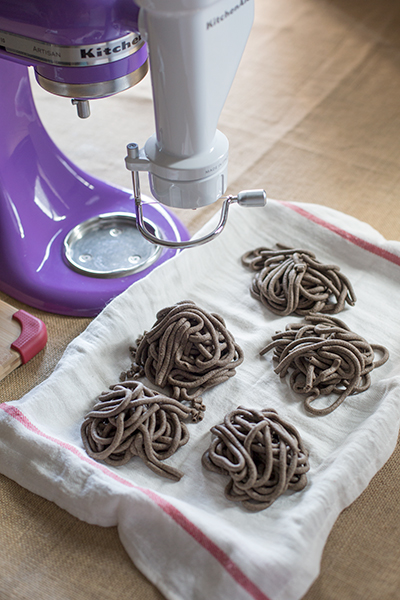 Serves 6
These hearty freckled noodles have depth of flavor and pair perfectly with cold weather flavors and ingredients like wilted greens, potatoes, cabbage, cheese and garlic.
Ingredients
1 cup buckwheat flour
1 cup bread flour
1 teaspoon fine sea salt
1 teaspoon garlic pepper
1/4 cup hot water
2 large eggs, room temperature
Instructions
Blend together flours, sea salt, and garlic pepper in your KitchenAid® Food Processor. In a separate bowl, beat the eggs into the hot water. With the Food Processor running, stream the egg mixture through the feed tube. Turn off the Food Processor once the egg mixture has been added to the flour mixture. Give the dough about ten 3-second pulses until it gathers into a ball and clears the side of the bowl.
Then lightly knead the dough on a work surface for a couple of minutes until it's smooth and supple, and wrap the dough in plastic film to rest for about 20 minutes.
To make the Bucatini, attach your KitchenAid® Gourmet Pasta Press with the Bucatini pasta cutter disc inserted to the power hub of your Stand Mixer.
Remove the dough from the plastic wrap and press it out onto a floured work surface. Cut the pasta dough into 3 or 4 portions. Turn your Stand Mixer on the highest setting (speed 10), and slowly feed walnut-sized balls of dough into the hopper. The dough should self-feed through the auger; wait until the auger is visible before adding the next piece. Use the combination tool to push dough through only if the dough is caught and no longer self-feeds.
Once the dough starts coming through the bottom of the Gourmet Pasta Press, use the built-in wire cutter to cut the pasta at desired length as it comes through the Gourmet Pasta Press (for Bucatini, approx. 9.5 inches long).
Separate the pasta after extrusion. Place noodles on a drying rock or in a single layer on a baking sheet or flat surface. Dry the pasta for about 30 minutes, turning the noodles occasionally.
Next, bring some salted water to a boil in the 8.0-Quart Stockpot from your KitchenAid® 7-Ply Stainless Steel 10-Piece Set and cook the fresh pasta for about 3-4 minutes.
Drain and toss into the largest bowl from your KitchenAid® Ceramic Nesting Mixing Bowl Set with a little olive oil and set aside while you prepare the pasta sauce.
Notes
Makes about 1 pound of fresh pasta, cooked. You can also double the recipe and freeze a portion of it to use later.
©2016 KitchenAid. All rights reserved. Adapted from Kristen Hess of The Artful Gourmet
Adapted from Kristen Hess of The Artful Gourmet
Adapted from Kristen Hess of The Artful Gourmet
Cooks Recipes http://recipe.cookswarehouse.com/
Google+